Today is a very special day here at Swirls of Flavor! To kick off the holiday season, I've partnered with 7 of my blogger friends and we have a Reindeer Recipes blog tour for you! If you arrived at Swirls of Flavor from my friend Marsha at M Jones Style, welcome! It's time to kick off the holiday season with our fabulous recipes and entertaining tips!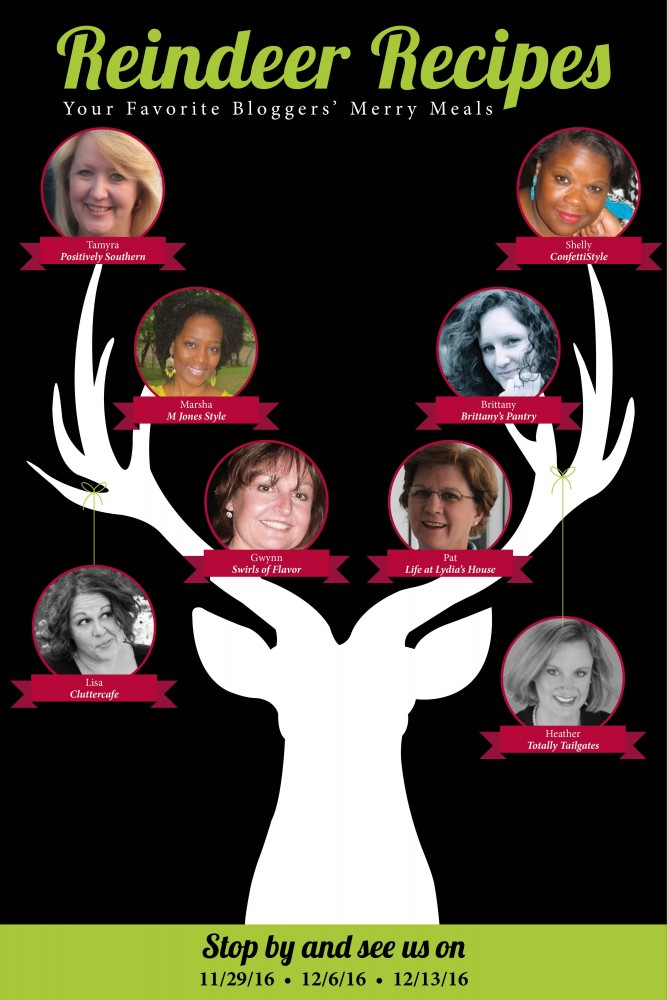 I'm happy you're all here today to share in the deliciousness of my Bandied Bacon Baked Brie! A sweet and savory mixture of bacon, pecans, brown sugar, maple syrup and Brandy combines with a layer of bacon jam to top two halves of a Brie cheese wheel. The stuffed Brie is nestled in a crusty bread bowl and then baked into divine creaminess. Guaranteed to impress your guests this holiday season, Brandied Bacon Baked Brie will be a mouthwatering addition to your entertaining recipe line-up! Get ready for the compliments!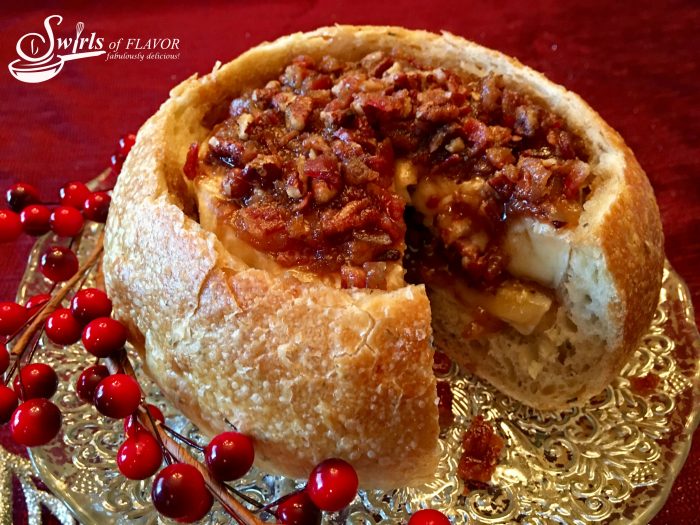 Brandied Bacon Baked Brie
1 round crusty bread, about 8-inch diameter
1 (16 ounces) Brie wheel, 6-inch diameter
4 Tbs. maple bacon onion jam , divided
1/3 cup crumbled crispy bacon, about 6 slices
1/4 cup chopped pecans, toasted
2 Tbs, packed brown sugar
2 Tbs. 100% pure maple syrup
1 Tbs. Bourbon
1. Preheat oven to 350F.
2. Using a sharp knife, cut a 6-inch circular shape in top of bread and carefully hollow out enough of the inside of the bread so cheese will fit inside.
3. Trim white rind off top of cheese wheel. Cut cheese in half horizontally.
4. Spread 2 Tbs. jam on tops of each cheese half.
5. In small bowl combine bacon, pecans, brown sugar, maple syrup and Bourbon. Spread bacon mixture over jam, dividing evenly between both cheese halves.
6. Place bottom cheese half in bread bowl, bacon side up, and top with remaining cheese half, bacon side up.
7. Wrap in aluminum foil and bake 25 minutes or until cheese is heated through. Unwrap and let stand 15 minutes.
Slice and enjoy!
Makes 16 servings.
Our holly jolly fun doesn't end here! Your next stop is at Cluttercafe . Stop by and say hello to my sweet friend Lisa at Cluttercafe as you continue on our Reindeer Recipes tour!
And be sure to hop on over and visit Tamyra at Positively Southern, Shelly at ConfettiStyle, Brittany at Brittany's Pantry, Pat at Life at Lydia's House , Heather at Totally Tailgates and Marsha at M Jones Style for more stops on our Reindeer Recipes tour! #reindeerrecipes
Disclosure: This post contains affiliate links. Swirls of Flavor earns a few cents on the dollar to help support this blog, when readers purchase the items I recommend, at no additional cost to you.