Freshly squeezed lime juice and fragrant mint leaves lend a taste of summer to every spoonful of our Blueberry Cantaloupe Salad. Our minted fruit salad will be a refreshing addition to any meal.
Blueberry Cantaloupe Salad Recipe
As summer comes to an end, it's time to take advantage of the bounty of fresh fruit with our cantaloupe fruit salad! Kissed with the flavors of freshly squeezed lime juice and fragrant mint leaves you will surely savor those last days of the season. Our fruit salad with melon and berries is the perfect way to hang on to summer just a little bit longer.
Read all about my tips and tricks for baking with blueberries in my interview on the U.S. Blueberry Highbush Council's blog.
First Published: August 28, 2015... Last Updated: July 12, 2019
Blueberry FAQ's
When is blueberry season?
Blueberry season and harvest in North America begins in April and lasts until late September. Blueberry season and harvest in South America runs from October through March.
How Long Do Blueberries Stay Fresh In The Refrigerator?
When properly stored in the refrigerator, blueberries should stay fresh for 1-2 weeks.
Are Blueberries Healthy?
Blueberries a very healthy fruit and, in fact, are referred to as a super food.
Blueberries contain:
fiber
folate
potassium
vitamin B6
vitamin C
Blueberries:
contain no cholesterol
are low in calories
are high in antioxidants
are high in nutrients
Ingredients you will need to make this recipe
freshly squeezed lime juice
superfine sugar
cantaloupe
fresh blueberries
fresh mint leaves
Easiest Blueberry Recipes

Triple Citrus Blueberry Frozen Yogurt Cups are bursting with fresh blueberries surrounded with crunchy granola and creamy Greek yogurt and flavored with a pop of citrus!
With blueberry season in full swing, Ginger Glazed Blueberry Scones are the perfect way to savor the sweetness of one of the highest antioxidant foods in the world!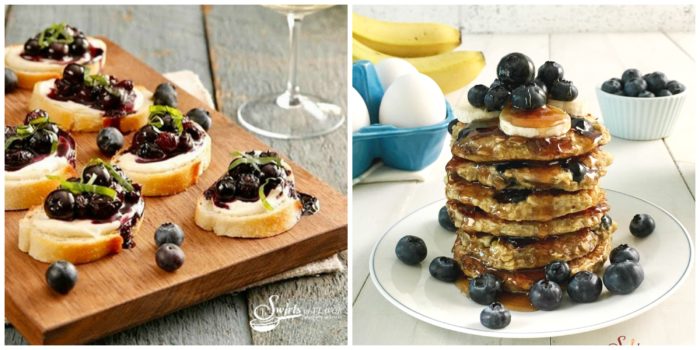 Balsamic Blueberry Mascarpone Crostini Recipe is a quick and easy appetizer recipe. Perfect for last minute entertaining, crispy toasts are topped with a sweet and tangy mascarpone cheese, a blueberry compote with hints of balsamic vinegar and fresh basil. A blueberry recipe with a delicious flavor combination.
With just four ingredients, you'll happily be making these from-scratch pancakes Gluten-Free Blueberry Pancakes over and over again for breakfast.
As an Amazon Associate I earn from qualifying purchases.
And have you checked out my Ultimate Guide To Making Homemade Salad Dressings? Making a Homemade Salad Dressing is so easy and takes just minutes. Made with simple real food ingredients, your salad dressing from scratch is not just better than store bought, it's better for you and oh so delicious too!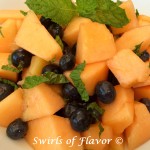 Blueberry Cantaloupe Salad
Freshly squeezed lime juice and fragrant mint leaves lend a
taste of summer to every spoonful of our Blueberry Cantaloupe Salad.
Course:
Breakfast, Dessert, Salad
Keyword:
blueberry cantaloupe salad, fruit salad
Ingredients
2

Tbs.

freshly squeezed lime juice

2

Tbs.

superfine sugar

4

cups

chopped cantaloupe,

from 1 large cantaloupe

1

cup

fresh blueberries

1

Tbs.

chopped fresh mint leaves
Instructions
Combine lime juice and superfine sugar, stirring until sugar is dissolved.

Toss cantaloupe, blueberries, mint and lime juice mixture until evenly coated.
Recipe Notes
Makes 4 cups.
Nutrition Facts
Blueberry Cantaloupe Salad
Amount Per Serving
Calories 101
Calories from Fat 9
% Daily Value*
Fat 1g2%
Sodium 27mg1%
Potassium 456mg13%
Carbohydrates 25g8%
Protein 2g4%
Vitamin A 5484IU110%
Vitamin C 65mg79%
Calcium 17mg2%
Iron 1mg6%
* Percent Daily Values are based on a 2000 calorie diet.