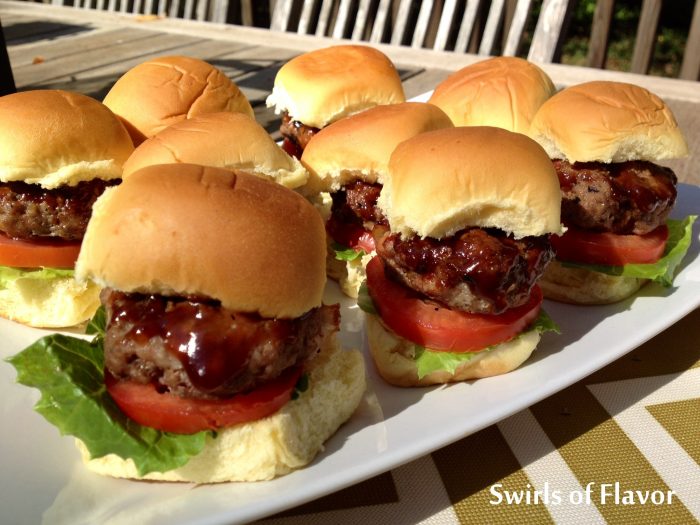 Don't you just love those itty bitty burgers they call sliders? Well, hang on to your seat because you haven't tasted anything until you've tasted Barbecue Bourbon Glazed Bacon Sliders! These little burgers get their juiciness and lots of added flavor as the bits of chopped bacon cook* along with the burgers. Yes, the bacon is inside the burger! Barbecue sauce flavored with bourbon glazes over the tops as the sliders cook so every bite is filled with intense flavors and juiciness. Serve these at your next party or football game day and they'll disappear before your very own eyes……which is why I highly recommend you make a double batch! Trust me, you'll thank me that you did!
* Sliders are cooked on the grill. I grill all year long but if you prefer to cook them on your stovetop just follow the stovetop directions below!
Barbecue Bourbon Glazed Bacon Sliders
1/3 cup barbecue sauce
1 Tbs. Bourbon
1 lb. ground beef
4 slices uncooked bacon, chopped
1 Tbs. Montreal steak seasoning
12 party potato rolls, from 1 pkg. (15 oz.) , such as Martin's
3 plum tomatoes, each cut into 4 slices
12 small lettuce leaves
1. Preheat grill for direct-heat grilling.
2. In small bowl combine barbecue sauce and Bourbon; reserve.
3. In bowl combine ground beef, chopped bacon and Montreal steak seasoning. Shape into 12 patties.
4. Grill sliders, turning once, until cooked through or thermometer reads 160F, brushing with some of the reserved barbecue sauce after turning.
5. Assemble sliders on party rolls with tomato slices, lettuce leaves and remaining barbecue sauce.
Makes 12 sliders.
*Stovetop directions:
Follow steps #2 & #3 above. Then continue with stovetop steps below:
1. Coat a large non-stick skillet with cooking spray.
2. Cook sliders, in batches if necessary, over medium-high heat until browned on one side.
3. Turn, brush tops with some of the reserved barbecue sauce.
4. Reduce heat to medium. Cook, covered, until sliders are cooked through or thermometer reads 160F. Refer back to step #5 above for assembly.