Do you only have risotto at a restaurant because you love risotto but you don't love standing by the stove and stirring constantly until it's done? Now risotto has become easier to make and has even been given a healthy facelift! And it's all due to cauliflower, the go-to vegetable that transforms recipes into healthier, and oh so delicious, options. Let's ditch the high starch classic Arborio rice for cauliflower rice, shall we?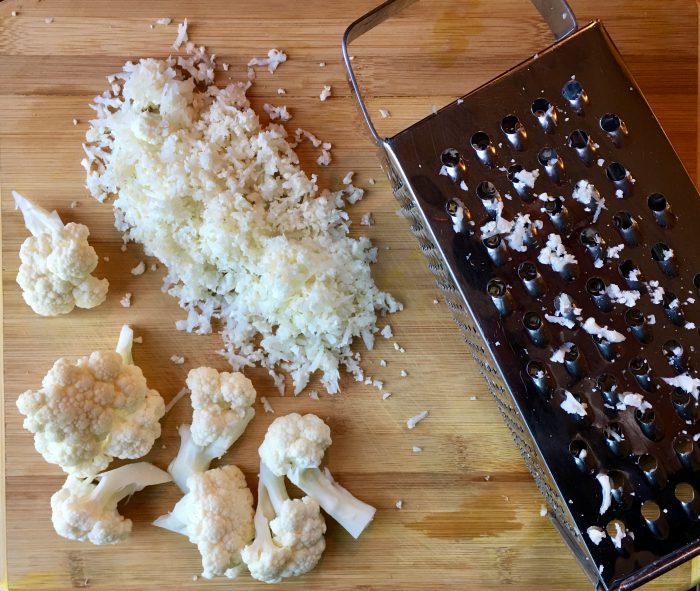 Yes, cauliflower rice! Cauliflower rice is readily available now in your produce and freezer sections of your grocery store. It's also so easy to make with a box grater or food processor or you could even finely chop it with a knife! Easy peasy any way you choose. With just a few ingredients you can have a creamy cheesy Three Cheese Cauliflower Risotto, studded with bits of sun dried tomatoes, on your table without being a slave to stirring. Parmesan, Cheddar and Asiago cheeses team up to create a flavorful silky three cheese sauce. It's time to make Three Cheese Cauliflower Risotto, the healthier, easier to make, less time consuming risotto!
Love all things cauliflower? Be sure to try Jalapeno Lime Cauliflower Rice, Buttered Ranch Cauliflower and Oven Roasted Cauliflower Tacos!
3 Cheese Cauliflower Risotto
2017-12-31 08:15:10
Serves 4
Nutrition Facts
Amount Per Serving
* Percent Daily Values are based on a 2,000 calorie diet. Your Daily Values may be higher or lower depending on your calorie needs.
Ingredients
¼ cup butter
¼ cup minced shallots
1/4 tsp. kosher salt
¼ tsp. cracked black pepper
4 cups cauliflower rice (16 ounces)
1 can (12 ounces) 2% evaporated milk
½ cup grated Parmesan
½ cup shredded sharp cheddar
½ cup shredded Asiago
1/4 cup chopped sundried tomatoes
1 Tbs. chopped fresh basil, optional
Instructions
Melt butter in saucepot over medium-high heat. Cook shallots, kosher salt and pepper until just tender.
Add cauliflower rice and ¼ cup water. Cover and cook 10 minutes until cauliflower rice is softened.
Add evaporated milk and bring to a boil.
Reduce heat to medium and stir in cheeses until a sauce forms. Stir in sundried tomatoes and cook until heated through.
Stir in fresh basil, if desired.
Notes
Makes 4 cups.
Main Dish: Makes 4 servings (1 cup per serving).
Side Dish: Makes 8 side dish servings (1/2 cup per serving)
Swirls of Flavor http://swirlsofflavor.com/