What do mushrooms taste like? Learn all about mushrooms and their earthy flavor with savory, almost meaty, notes. Mushrooms are a delicious addition to your plant based lifestyle.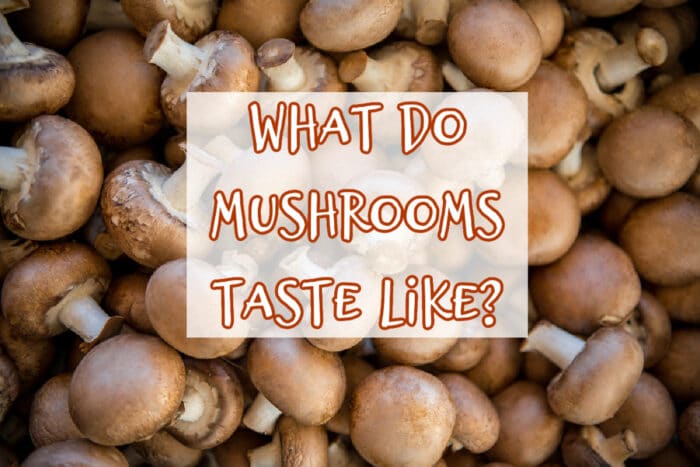 Over the past few years, mushrooms have become one of the hottest ingredients in plant based eating, restaurants, and gourmet cooking. So what do mushrooms taste like?
If you're new to cooking mushrooms, you need to understand the types of mushrooms and what mushrooms taste like before you're going to use them in cooking.
Various types of mushrooms are available on the market, and each type has its own taste and flavor.
Let's dive into everything you need to know about some of the different types of mushrooms, what do mushrooms taste like, how to use them in cooking, how to select them and the health benefits of mushrooms.
What Do Mushrooms Taste Like?
The most common edible mushrooms have a distinctive earthy or musty flavor that is often described as slightly meaty.
Due to their meaty flavor, mushrooms have become a popular substitute for beef in plant based recipes.
Some mushrooms have a mild and pleasant taste with a hint of sweetness, while others have a robust, rich flavor and taste somewhat nutty.
Any of these mushrooms that you decide to cook will fit deliciously into your plant based lifestyle.
Some mushrooms are not edible so be sure not to pick wild mushrooms when you don't know what they are!
6 Different Types of Mushrooms' Tastes and Uses
Mushrooms are a versatile ingredient that can be used in sweet and savory dishes. Let's take a look at the most popular types of mushrooms, their uses, and what do mushrooms taste like.
Button Mushrooms
Button Mushrooms, are young and immature, and are the most popular edible mushrooms, widely cultivated and available fresh in supermarkets.
Also known as white mushrooms, button mushrooms are very popular with chefs and home cooks alike.
Their color ranges from whitish to slightly brown, and they have a smooth surface cap.
What Does Button Mushroom Taste Like?
They have a relatively mild and meaty taste, so you can use them in almost any dish that includes vegetables, fish, or meat.
How are White Button Mushrooms Used?
Ever wonder if you can fry mushrooms? You certainly can. Button mushrooms are great for frying and for roasting too.
They are used in various dishes, from enchiladas to stuffed peppers. They are also great served raw in salads.
White mushrooms make a delicious side dish when sauteed with a few seasonings.
Are Button Mushrooms Good for You?
White mushrooms:
So if you're looking to lose weight or simply want to add variety to your diet, you should consider adding a few button mushrooms to your meals.
What are other names for white button mushrooms?
Button mushrooms, Agaricus bisporus, are sometimes known as champignon mushrooms, white mushrooms, table mushrooms, and common mushrooms.
Cremini Mushrooms
Cremini mushrooms are the same species as white mushrooms, but they are more mature than white button mushrooms.
If allowed to grow larger, cremini mushrooms will turn into portobellos.
What Does Cremini Mushroom Taste Like?
Cremini mushrooms are slightly brown and have a nutty flavor with a dense, meaty texture.
If you are a vegetarian, you can easily use cremini mushrooms as a substitute for meat.
What is another name for cremini mushroom?
Cremini mushrooms are also known as Baby Bellas.
Are Cremini Mushrooms Healthy?
Cremini mushrooms are also a great source of vitamins and minerals, including niacin, riboflavin, and selenium.
How are Cremini Mushrooms Used?
Cremini mushrooms are great as a sauteed mushroom side dish and also in soups and stews, casseroles, pasta, salads, sauces, and more.
Portobello Mushrooms
White mushrooms harvested after they have grown to their full size are Portobello mushrooms.
Portobellos are the large, mature, brown mushrooms that you can easily find in grocery stores in the produce section.
Portobello mushrooms are prized for their meaty texture and flavor.
What Does Portobello Mushroom Taste Like?
Portobello mushrooms can have a dense steak-like texture and a meaty, earthy, and robust flavor, making them great for sandwiches and burgers.
They are also a good substitute for a burger when eating a plant based diet.
What Is Another Name for Portobello Mushroom?
Portobello mushroom is also known as Portabella
Are Portobello Mushrooms Healthy?
Portobello mushrooms are a good source of:
How are Portobello Mushrooms Used?
Portobello mushrooms can be eaten raw, cooked, and even battered and fried.
It can be used in salads, soups, sandwiches, and pizza toppings.
Portobello mushrooms are also great when marinated and grilled.
If you love the taste of steak, then you will love Portobello mushrooms.
Oyster Mushrooms
Oyster mushrooms are a type of edible mushroom used in many different dishes. Also known as Pleurotus ostreatus, they too are a great meat substitute for vegetarians.
What Does Oyster Mushrooms Taste Like?
Oyster mushrooms have a savory, nutty and subtle taste similar to seafood.
How are Oyster Mushrooms Used?
Oyster mushrooms are often used as a topping for pizzas and pasta and can also be used in stir-fries.
These mushrooms are used in many different cuisines, including Chinese and other Asian cuisines.
Are Oyster Mushrooms Healthy?
Oyster mushrooms are:
high in protein
a good source of niacin
high in zinc
a source of antioxidants
What are other names for oyster mushrooms?
The oyster mushroom is also called Pleurotus ostreatus, oyster fungus, or hiratake.
King Trumpet Mushrooms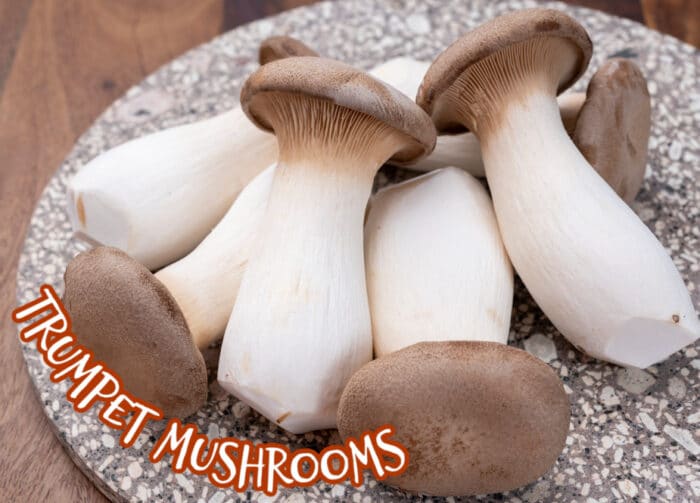 The king trumpet mushrooms, also referred to as king oyster, are larger mushrooms that can be found in various colors, including brown, tan-colored caps, and greyish brown.
They have firm stems and a dense texture.
What Does King Trumpet Mushroom Taste Like?
They have a mild taste and are meaty, with a subtle, savory, and umami flavor.
How do you use King Trumpet Mushrooms?
It is a very versatile mushroom and can be used in a wide variety of dishes, including soups, stews, stir-fries, pasta, and sandwiches.
What are other names for King Trumpet Mushrooms?
King trumpet mushroom, Pleurotus eryngii, is also known as French horn mushroom and king oyster mushroom.
Is King Trumpet Mushroom Healthy?
King trumpet mushrooms plays a crucial role in gastrointestinal health.
King trumpet mushrooms also contain several essential vitamins and minerals such as:
Shiitake Mushrooms
Shiitake mushrooms are a variety of edible mushrooms native to East Asia, and is also one of the most common types of mushrooms consumed in the world.
The taste of shiitake mushrooms is not easy to describe.
What does Shiitake Mushroom Taste Like?
It tastes earthy and buttery with a vibrant umami flavor. If you like meat, you will enjoy the taste of shiitake mushroom.
Shiitake Mushroom Uses
It is also one of the few mushrooms that is popularly consumed raw.
Shiitake mushrooms can be used in any dish that a button or crimini mushroom would be used in.
Is Shiitake Mushroom Healthy?
Shiitake mushrooms:
contain rich minerals
are a powerful source of natural copper
supports bone health
boost immunity
Other names for Shiitake Mushroom
Shiitake mushrooms are commonly named sawtooth oak mushroom, black forest mushroom, black mushroom, golden oak mushroom, or oakwood mushroom.
Tips for Buying Mushrooms
When buying mushrooms, there are specific guidelines for choosing good mushrooms for cooking.
It is essential to look for mushrooms that are fresh and have:
a smooth surface
a firm texture
a sweet and earthy aroma
a dry surface but not dried out
a plump appearance
Avoid mushrooms:
that are bruised
that have a spongy texture
that have a sour or fishy smell
Be sure to store mushrooms in a paper bag in the refrigerator and use them within a week after purchase.
Did you know this fun fact about mushrooms? When you look under a mushroom, if the veil under the mushroom is closed the mushroom will have a delicate flavor.
If the veil under the mushroom is open and the gills are visible, the mushroom will have a richer flavor.
How to store mushrooms
Once you have purchased your mushrooms there are several steps you can take to keep them staying as fresh as possible:
remove them from the container they came in
wrap them in a paper towel
put them in a paper bag
store them in the refrigerator
The paper bag will absorb excess moisture and keep the mushrooms fresh for longer.
Mushrooms should last for about a week in the refrigerator.
I find it helpful to always visit the FDA website for food storage guidelines.
How to clean mushrooms
I make commissions for purchases made from links in this post.
Before cooking your mushrooms, use a dry cloth, paper towel or mushroom brush to wipe off any excess dirt.
It is best not to submerge mushrooms in water to clean them because they will begin to absorb the water and become heavy and water logged.
However, you can put mushrooms in a colander and quickly run water over them.
Be sure to visit Swirls of Flavor Amazon Storefront for more of GG's personal kitchen recommendations!
Mushroom Recipes
Best Substitutes for Mushrooms
Mushrooms are a great source of protein and are also a vegan alternative to meat. Even though mushrooms are meaty and bring a lot of umami flavor, some people are intolerant of them.
Also, if you don't have fresh or canned mushrooms, there are some great substitutes for mushrooms that you can use to make your recipes.
Tofu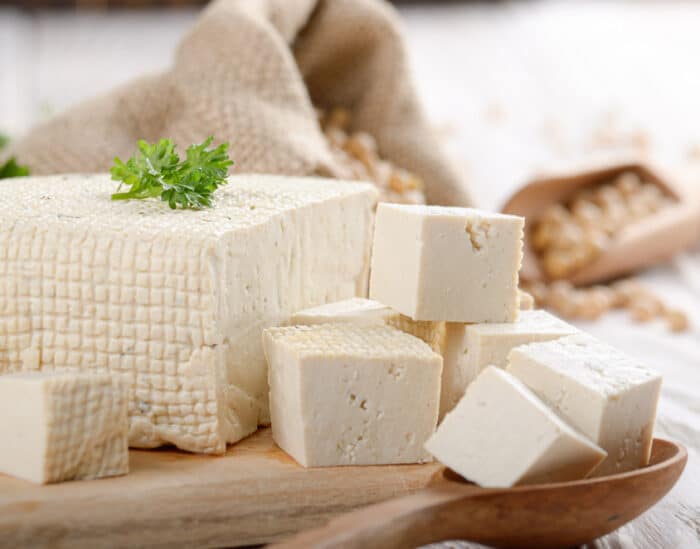 If you don't like or are allergic to mushrooms, you can try tofu, a great substitute for mushrooms. Tofu has a distinctive, soft, spongy texture and will absorb flavors in a recipe.
Zucchini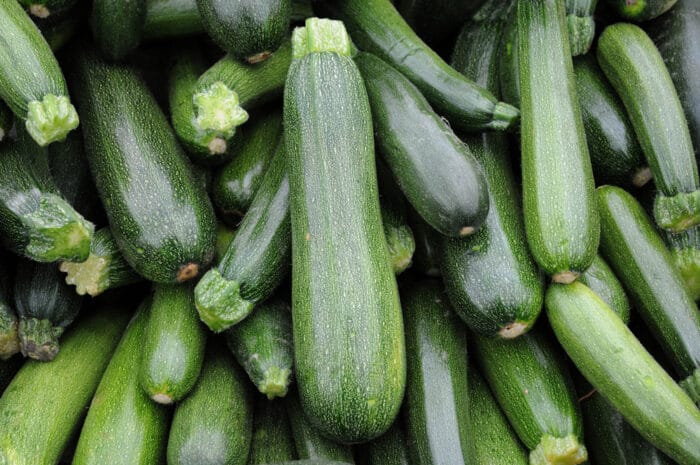 Most people love mushrooms. They're soft, flavorful, and can be cooked in a variety of ways. What if you don't have mushrooms in your pantry? Can you substitute it with zucchini?
Zucchini is an excellent substitute for mushrooms because of its soft texture. Zucchini is very mild and often has a sweet taste to it.
Eggplant
Eggplant is a great substitute for mushrooms. Both have the same type of texture.
Eggplant is a vegetable that is rich in antioxidants and helps lower cholesterol. It is also a great source of fiber and potassium.
Olives
Olives are an excellent substitute for mushrooms. The olives add savory flavor to your dishes.
So, if you're a mushroom lover, you can enjoy a similar flavor and texture with olives.
Some olives have a briny flavor so be sure to use a milder olive when replacing mushrooms with them.
Artichoke Hearts
Most people think of artichoke hearts as a seafood substitute or as an addition to a salad. And they can work wonders on your pizza.
But did you know that they are also a great substitute for mushrooms?
Artichoke hearts have an earthy flavor and a great texture, and you won't notice a difference!
When choosing canned artichoke hearts, make sure they are packed in water.
Lentils
Lentils are rich in flavor, with mild earthy notes, making them a good substitute for mushrooms.
Also, cooked lentils have a thick, soft consistency similar to mushrooms.
Mushrooms are one of my favorite vegetables because of their versatility. And I love the many types of mushrooms that are available giving us lots of delicious choices. I hope you now know all about mushrooms and love them too!