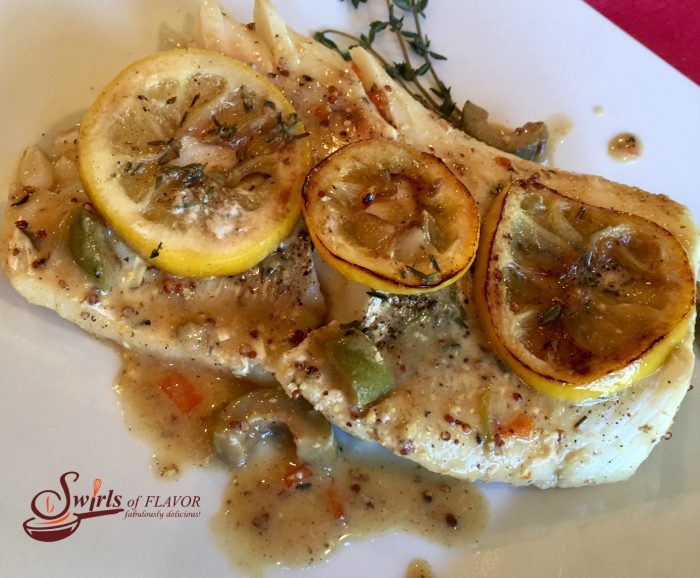 I love fish, not just because it's healthy for you, but also because it's so fresh and fabulous! Delicious any time of the year, Lemon Dijon Cod Saute is the perfect dinner for Good Friday, the meatless Friday before Easter Sunday. Cod, a fresh water fish with a mild taste and dense flaky white flesh is bursting with the goodness of Vitamins A, D and E and omega 3! You are probably most familiar with it as one of the popular fishes used in "fish and chips". I love fish and chips and I'm thinking I need to develop a Beer Battered Fish and Chips for you in the very near future, agree? Ok I'm getting off track! Now back to our Lemon Dijon Cod Saute, a quick and easy recipe with a creamy sauce studded with olives and shallots and topped with sweet and tangy caramelized lemon slices! Oh my! Serve with green beans and a tossed salad and you'll not only be healthy, you'll have a dinner that's brimming with flavor! And isn't that what we all want? Enjoy!
Lemon Dijon Cod Saute
1 Tbs. olive oil
2 shallots, thinly sliced
1/4 cup chopped green olives with pimentos
2 Tbs. country style Dijon mustard
1/3 cup white wine or chicken broth
1 lb. cod fillets
1/4 tsp. dried thyme
1/4 tsp. kosher salt
1/4 tsp. pepper
Heat oil in large non-stick skillet over medium-high heat.
Cook lemon slices until golden around edges, turning once; set aside.
In same skillet cook shallots and green olives until shallots are just tender, about 3 minutes.
Stir in wine and Dijon and cook 1 minute.
Season cod with thyme, kosher salt and pepper and add to skillet. Arrange lemon slices on top of cod.
Cook, covered, until fish is cooked through and flakes with a fork, about 5 minutes.
Transfer cod to a serving dish and drizzle with sauce.