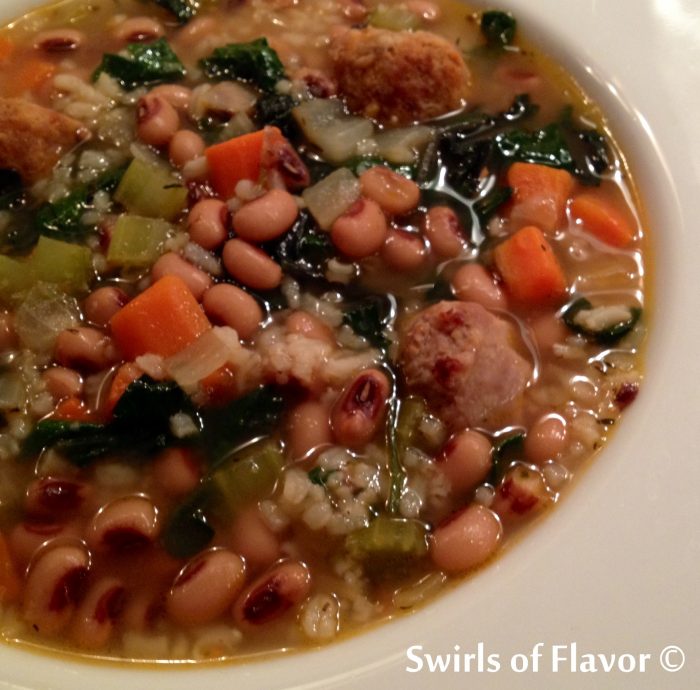 "Eat poor that day, eat rich the rest of the year. Rice for riches and peas for peace." ......and so the Southern saying goes about eating Hoppin' John on New Year's Day. A dish of black eye peas, rice, onion, bacon and greens, Hoppin' John Soup eaten on New Year's Day is thought to bring good luck and prosperity in the new year. The peas are a symbol of good luck, pork represents progress in the new year and the greens, being the same color as money, are a symbol of wealth. Classically, Hoppin' John is the first thing eaten at the stroke of midnight on New Year's Eve along with a glass of champagne. Dating all the way back to the early 1800's, there are many variations of this historical Southern dish. I changed it up a bit myself and made this Hoppin' John Soup Recipe, which could also be called "stoup" because it's so hearty it could be considered a cross between a soup and a stew. I also switched out bacon and added sausage and updated the greens to a baby kale mix. Now you can relax on New Year's Day with a piping hot bowl of Hoppin' John Soup and dream about the wonderful and prosperous new year ahead....and don't forget the hot sauce!
Hoppin' John Soup Recipe
1 Tbs. oil
2 carrots, peeled, chopped, 1 cup
2 ribs celery, chopped, 1 cup
1 onion, chopped, 1 cup
8 ounces hot and/or sweet Italian sausage, sliced 1" thick
1/2 tsp. dried thyme
1/2 tsp. kosher salt
2 cans (14 1/2 oz. each) chicken broth
1 can (15.5 oz.) black eye peas, drained, rinsed
1 cup cooked long grain white rice
1 pkg. (5 oz.) baby kale mix* or baby spinach, 5 cups
hot sauce, serving suggestion
1. In large pot heat oil over medium heat.
2. Cook carrots, celery, onion, sausage, thyme and kosher salt until vegetables are just tender and sausage is browned, stirring occasionally, 12-15 minutes.
3. Add broth, peas and rice. Bring to a boil over medium-high heat. Reduce heat to medium and simmer 20 minutes.
4. Stir in baby kale mix. Simmer until greens are wilted, sausage is cooked through and vegetables are tender, 2-3 minutes.
5. Serve with hot sauce!
Makes 6 cups.
*Baby kale mix is a combination of baby kale, chard and spinach.