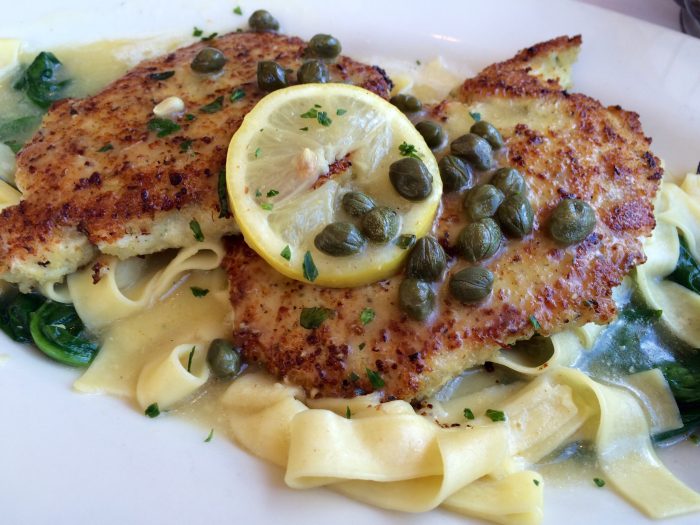 Chicken Piccata, tender thin chicken breasts in a light lemon sauce with tangy capers, is a classic dish that every cook needs to have in their recipe line up! And now you will! But wait til you see how versatile this sauce can be! Prefer no capers? Leave them out and you'll have a basic lemon sauce. Now take that basic lemon sauce and make it anything you want it to be! Stir in a bit of Dijon mustard for a Lemon Dijon Sauce. Add chopped fresh dill and it becomes Lemon Dill Sauce! Give it a French twist with chopped fresh tarragon stirred in. Let your imagination create your next sauce!
Chicken Piccata
2016-09-21 08:22:41
Serves 4
Nutrition Facts
Amount Per Serving
* Percent Daily Values are based on a 2,000 calorie diet. Your Daily Values may be higher or lower depending on your calorie needs.
Ingredients
3 Tbs. flour
1/4 tsp. kosher salt
1/4 tsp. cracked black pepper
1 lb. thin sliced boneless skinless chicken breasts
2 Tbs. olive oil
2 Tbs. butter, divided
1/4 cup white wine
1 1/2 cups chicken broth
4 lemon slices
1 cup baby spinach, optional
1/4 cup capers, drained and rinsed
1 Tbs. lemon juice
1 Tbs. chopped parsley
hot cooked fettuccini or egg noodles, serving suggestion
Instructions
Combine flour, kosher salt and cracked black pepper . Lightly coat both sides of chicken pieces in flour mixture. Reserve remaining flour mixture.
Heat oil and 1 Tablespoon butter in large nonstick skillet over medium-high heat. Brown chicken on both sides; set aside.
Add wine to skillet and boil 1 minute, scraping up any brown bits.
Combine reserved flour mixture and chicken broth, stirring until smooth and add to skillet. Bring to a boil.
Reduce heat to medium-low and add lemon slices and reserved chicken to skillet. Simmer until sauce has thickened and chicken is cooked through, 3-4 minutes.
Stir in baby spinach, if desired, capers, lemon juice and remaining 1 Tablespoon butter and cook until spinach is just wilted and butter is melted, about 1 minute.
Sprinkle with chopped parsley and serve with hot cooked pasta or egg noodles, if desired.
Swirls of Flavor https://swirlsofflavor.com/