Christmas dinner should be as memorable as opening your gifts on Christmas morning. Our Best Ever Christmas Dinner Recipes menu will make your holiday fabulously delicious and memorable too! We've got a Christmas menu all ready for you!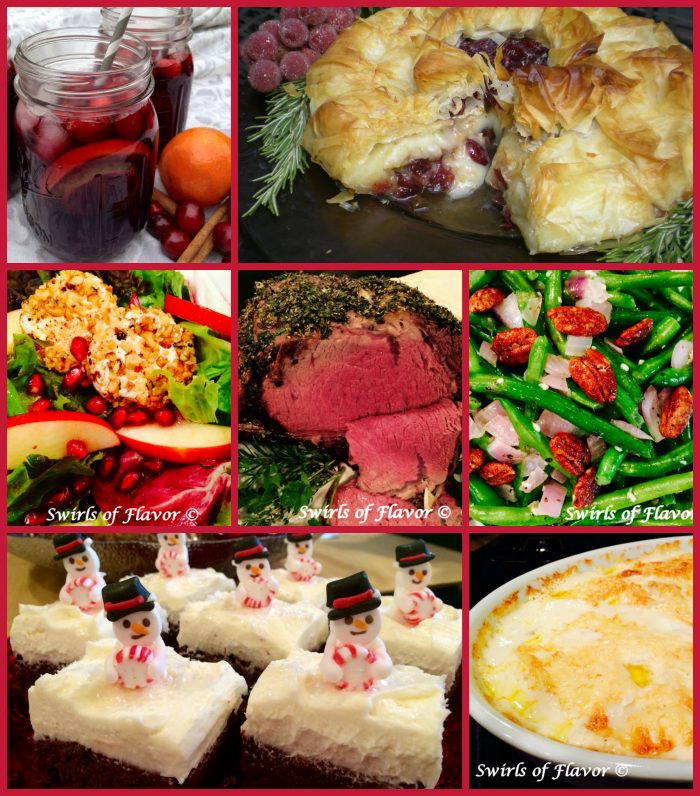 When it's time to plan your holiday menu, Swirls of Flavor has you covered! Starting with a warm cocktail and ending with Peppermint Snowmen Brownies, we have your holiday table brimming with deliciousness.
Warm up the Cranberry Sangria, it's time to commence the dining experience! Say Cheers to the holiday with a glass of warm Cranberry Sangria, a delicious way to start the celebration.
A warm and creamy Phyllo Wrapped Brandied Baked Brie will impress your family and friends with it's crispy layers of golden phyllo and brandy scented fruit topping.
Pomegranate Apple Mixed Greens With Walnut Crusted Goat Cheese lightly tossed in a homemade Pomegranate Vinaigrette is an elegant start to your holiday meal.
Bring on the main attraction, Garlic Infused Herb-Crusted Beef Rib Roast, a heavenly cut of beef that's smothered with fresh herbs and studded with cloves of garlic.
Buttery Green Beans With Glazed Pecans and cheesy Golden Potatoes Au Gratin round out your festive dinner.
End the holiday on a sweet note with Peppermint Snowmen Brownies, homemade fudgy brownies topped with a peppermint buttercream and sugar snowmen!
Happy Eating and Happy Holidays!
Savor the Moment!