This post contains affiliate links. If you make a purchase through one of these links, I make a small commission at no extra cost to you. (Privacy Policy)

Hooray! Hooray! It's Amazon Prime Day! Are you ready to click and get some Amazon Prime Day Deals? I've got some favorites that you need to check out today and (in my opinion) they get better as you scroll down! So let's get to it!

My grandsons are obsessed with all things Star Wars, as are most kids, both big kids and little kids! So why not treat them to a snack of homemade Star Wars cookies. Make your favorite sugar cookie recipe or if you're in a hurry feel free to use a sugar cookie mix. Just roll out the cookie dough with a rolling pin and then go over the cookie dough with this Star Wars Rolling Pin ! It makes an impression in the dough leaving Star Wars characters and symbols. Simply cut out with a round cutter and bake! Trust me, your little Star Wars fans will love you for it!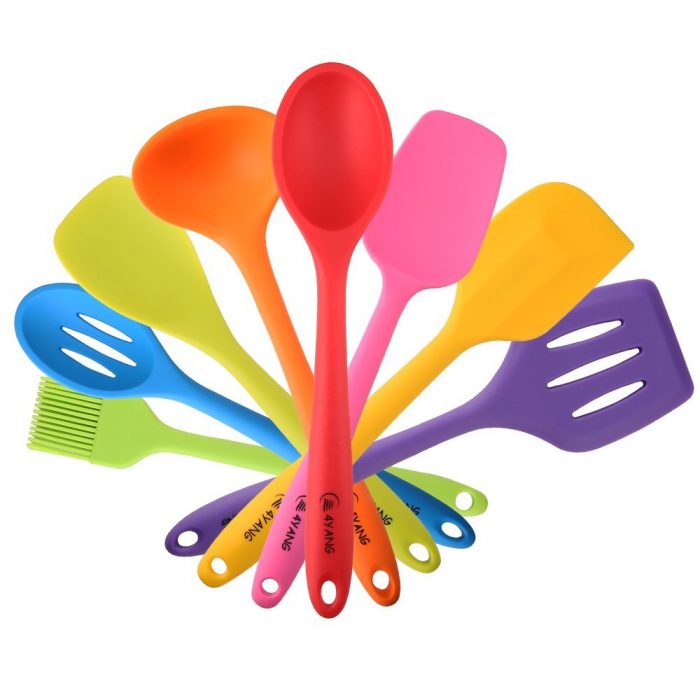 You'll want to replace your kitchen utensils with this 8-Piece Heat Resistant Silicone Utensil Set in these beautiful bright happy colors! These colors make me smile every time I use them! They come in these fun colors and are sturdy and heat resistant. The set includes a turner, slotted spoon, ladle, spoon, spoon spatula, spoonula, spatula and basting brush all in an array of colors. Just look at how much fun those colors are!
Do you have an Instant Pot yet? Well today is your lucky day because it's discounted for Amazon Prime Day and it's a great discount folks! Have you heard all about the Instant Pot and it's bells and whistles? Well let me tell you all about it. The Instant Pot is a 7-in-1 Multi-Functional Cooker that includes a pressure cooker, slow cooker, rice cooker, yogurt maker, steamer, warmer and will saute and brown too! With a large control panel that's easy to use, there are 14 built-in smart programs, dual pressure and automatic keep warm function and 3 temperatures for slow cooking and sauteing! Holy moly, now that's a talented appliance that needs to be in your kitchen pronto!

Do you love the convenience of food shopping online? Isn't it the best feeling when the doorbell rings and your groceries are all shopped for you and just need to be put away? I love the sound of that doorbell! I've used Amazon Fresh many times for my grocery shopping and am always happy with the results. Give it a try and get unlimited grocery delivery for $14.99 a month !

There's also a deal for $30 off of your first order. Great deals and a great way to give Amazon Fresh a try.

Ok, here we go (see, it's getting better!) with my newest favorite toy in the kitchen, the Ninja Coffee Bar! My son and daughter-in-law just got one and it is so much fun to use! It comes with a recipe book for making all of those specialty coffee drinks you pay top dollar for at the coffee shop, Trust me when I tell you that you will absolutely love having this coffee bar in your very own kitchen. It will custom brew classic, rich or over-ice coffee, signature brews and specialty and cafe forte! It has a built-in frother and comes with a glass carafe. Yes, you definitely need a Ninja Coffee Bar System for your very own!

And then there's the Coffee Boy All-In-One Coffee Maker by Equinox! It's a Prime Day launch item and I'm really excited about this! It looks amazing! It is built with a stainless steel cup, a micro-porous filter, an industrial coffee grinder, safety sipping lid and this is all powered by a long lasting battery. This portable coffee maker lets you bring the world of fresh coffee anywhere, anytime!

Launching for Prime Day is the OXO Conical Burr Coffee Grinder which I am going to take a good look at myself! Coffee tastes so much better when it's fresh ground at home and this grinder has 15 grinding settings and in addition to micro settings so you can get the precise grind that you want. It has a one-touch start timer that keeps your last setting, holds up to .75 lbs. of coffee beans and can grind enough for 12 cups at one time. Sounds like this OXO Coffee Grinder is going to be a great purchase!

Do you have a Panini Press yet? I love my Breville Panini Press and use it for not just paninis but grilled cheese, burgers, chicken breasts and even vegetables! I can get even cooking and a grilled look without having to fire up the grill (this is especially helpful when it's raining outside!). It has a nonstick, scratch-resistant Quantanium cooking surface, a flat bottom plate for fast thorough cooking with a ribbed top plate that creates grill marks and has a floating hinge, 4 height settings, on/ready lights and nonslip feet! How can you pass up a Panini Press with all of those functions? I couldn't and I love mine!

And my kitchen wouldn't be complete without a homemade pasta machine! Making homemade pasta with my grandchildren, sons and daughters-in-law are what making delicious memories are all about. When the pasta machine comes out of the pantry we know it will be a fun and delicious day together! If you don't have a pasta machine already then it's time you did and the Marcato Atlas Pasta Machine is my recommendation. Made in Italy, it rolls and cuts pasta dough for lasagna, fettuccine, spaghetti, ravioli and tagliolini. You'll get the pasta machine, pasta cutter, hand crank, clamp, instructions and a 10-year warranty. There's also a pasta drive motor and 12 pasta cutting accessories that are sold separately so you can add them on at any time. Cook's Illustrated called the Marcato Atlas the Ferrari of the pasta machine world. Since I am related to the Lamborghini car family, I'm calling it the Lamborghini of the pasta machine world!
Thanks for stopping by and Happy shopping!