Red Velvet Cheesecake Brownies is an easy recipe that combines three favorite desserts, red velvet cake, brownies and cheesecake. A homemade red velvet brownie cake is topped with a creamy cheesecake batter and baked to perfection. Just in time for Valentine's Day!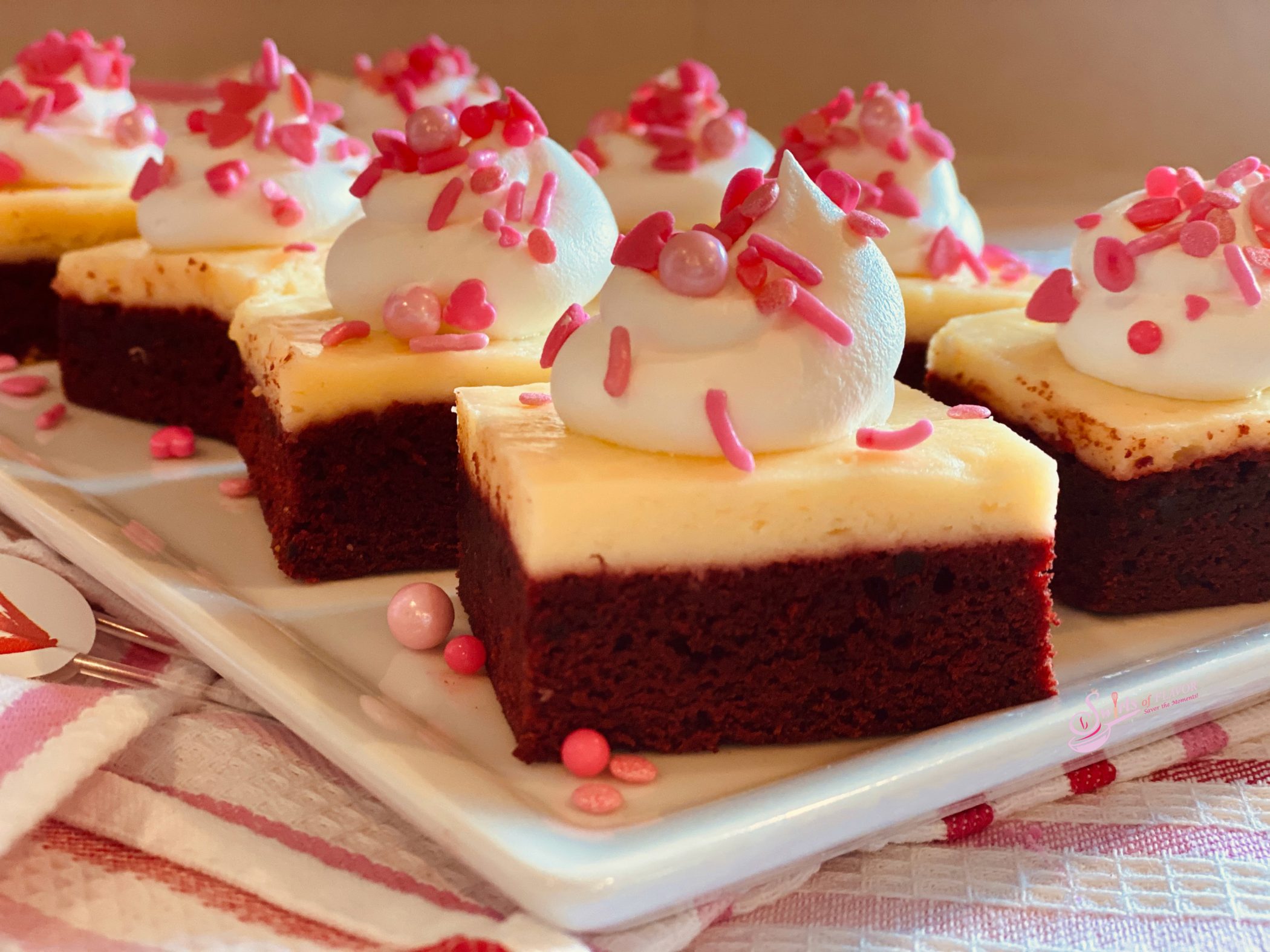 Red Velvet Cheesecake Recipe
When everyone loves red velvet cake and everyone loves cheesecake, it's was a no-brainer that I needed to develop a recipe that combines both favorites, and brownies!
I took things a step further and went with brownies as the red velvet cake layer so all you need is a bowl to make the batter. No mixer necessary.
A creamy cheesecake batter that is lightened with a touch of sour cream became the crowning glory for this Valentine's Day dessert.
Every bite of our red velvet cheesecake recipe is bursting with red velvet brownie and cheesecake, a winning combination. Just ask your taste buds, they'll agree for sure.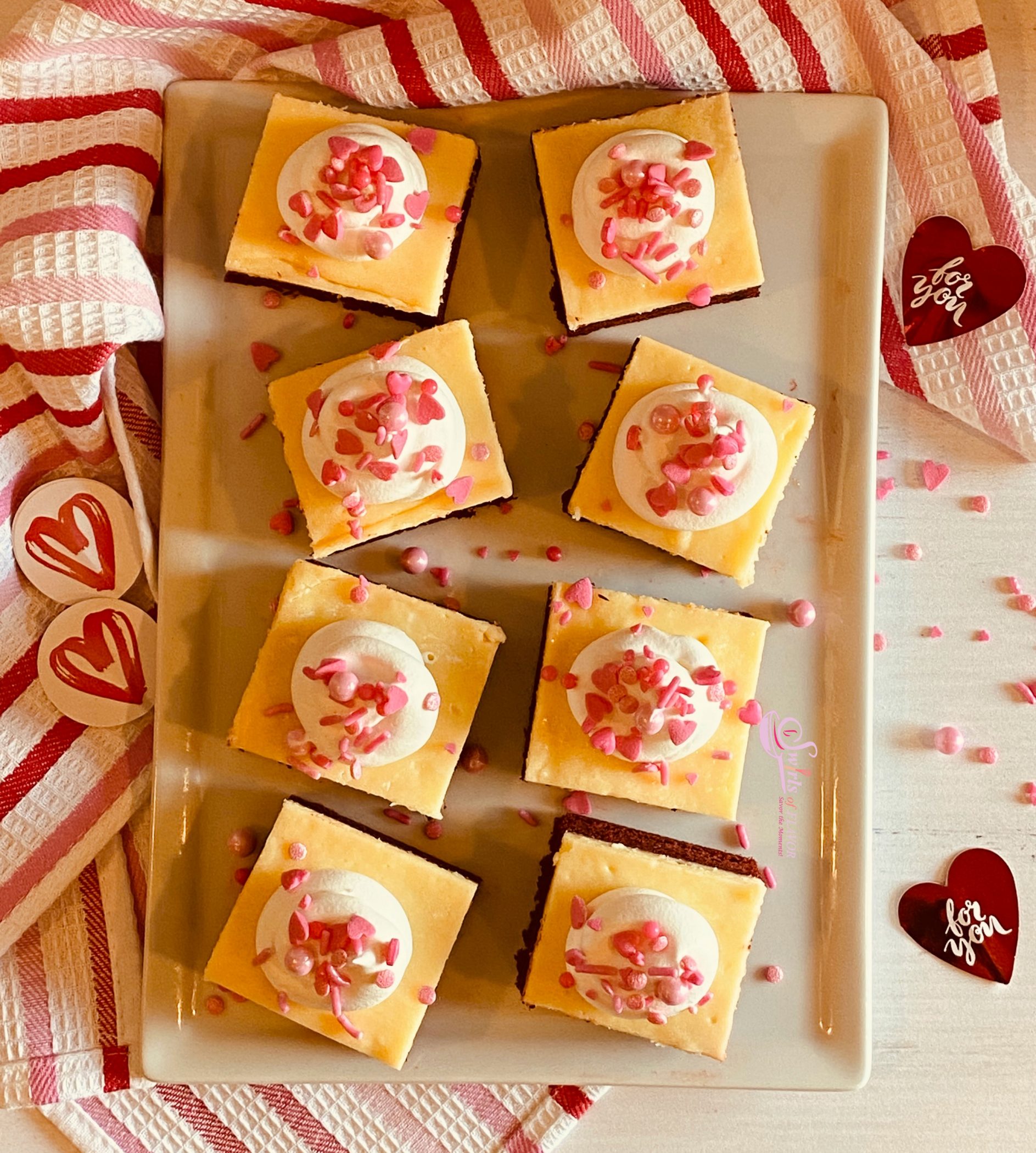 Red Velvet FAQ's
What is red velvet cake?
Red velvet cake is a chocolate cake, typically made with cocoa powder, buttermilk and vinegar and is red in color from food coloring.
What is the traditional icing for a red velvet cake?
Traditionally, cream cheese icing is used when frosting a red velvet cake.
What is the origin of the red velvet cake?
The Adams Extract company claims to be the creator of the red velvet cake in the 1920's. However, The Waldorf Astoria Hotel in New York City also claims that the red velvet cake got it's origins on it's menu and was very popular there in the 1950's.
As an Amazon Associate I earn from qualifying purchases.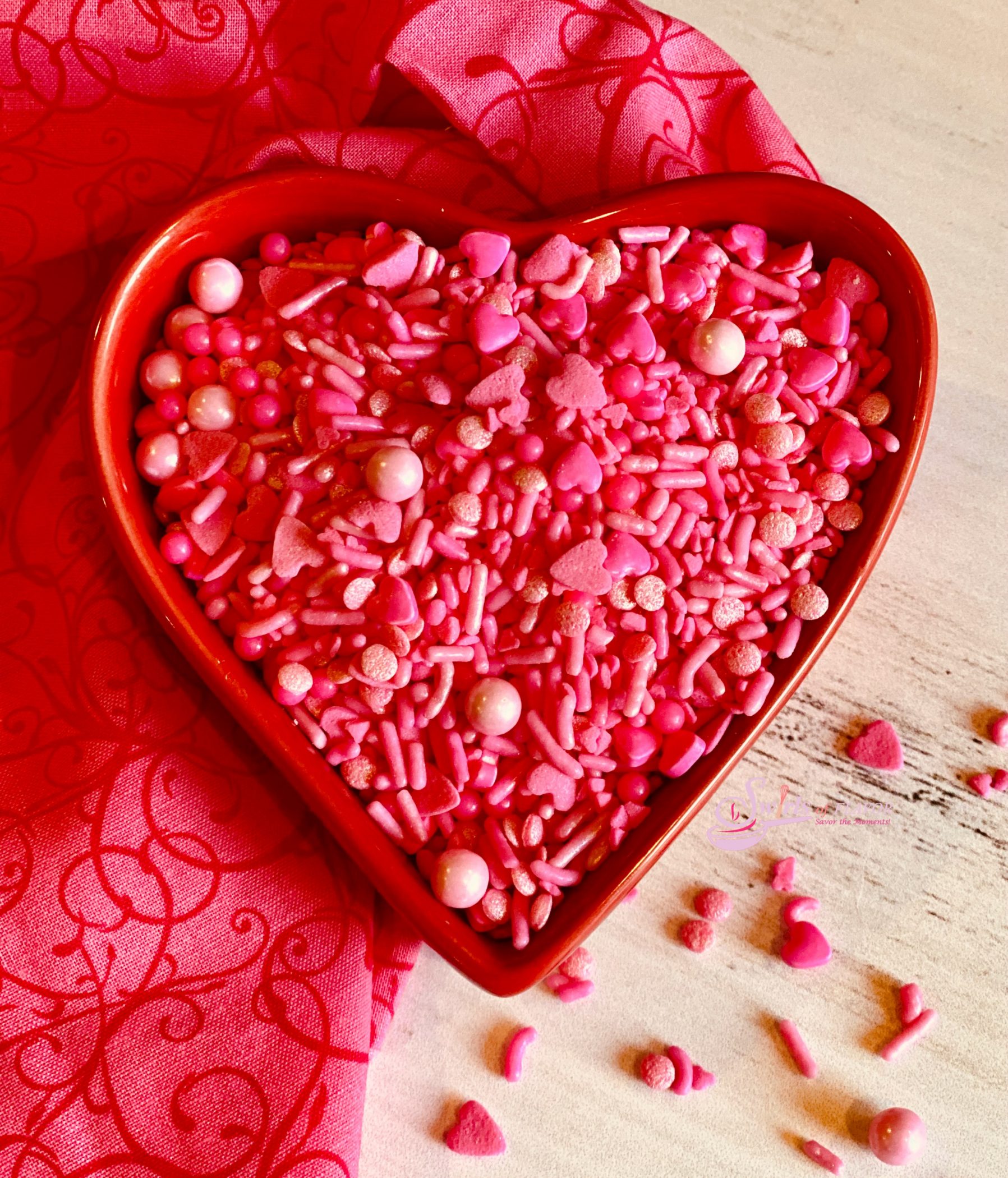 Ingredients you will need to make this recipe
butter
eggs
cream cheese
sour cream
whipped topping
Valentine Blogger Event
I'm so excited to participate in this Valentine's event again. This is the fourth year for our Good Cookie Food Bloggers' Valentine Event and we want to continue to make a difference in the fight against pediatric cancer.
Cancer is the #1 cause of death of children by disease in the U.S. There are 40,000 U.S. children actively battling cancer right now. The National Cancer Institute's budget for childhood cancer is less than 4%. It's such a small number and that's why I got involved.
Help us make a difference by donating to Cookies for Kids' Cancer!
Our goal is to raise at least $3000. Because these three companies: OXO, Mediavine amd Dixie Crystals have each pledged to match our donations raised through this campaign up to $3000! That means when we raise $1, it turns into $4!
Thank you to so many of you who have already donated, please help us reach our goal so we can get the full matching donations and help us make an even huge difference!
Be sure to visit the other bloggers participating in the Valentine's Day event and check out their recipes!
Brownie Cups from Julie of The Little Kitchen
Valentine's Day Delight Recipe from Jennifer of The Rebel Chick
Strawberry Cake Rolls from Coleen of The Redhead Baker
Perfect M&M Cookies from Carlee of Cooking With Carlee
Paleo Almond Butter Cookies from Taryn of Hot Pan Kitchen
Black Tahini Truffles from Camilla of Culinary Adventures with Camilla
Pink Glitter Drink fo Valentine's Day from Jenn of Ever After in the Woods
Vegan Matcha Rose Shortbread from Carolann of Apron Warrior
Star Wars Kylo Ren Emoji Cookies from Jenn of justJENN recipes
Double Chocolate Chip Cookies from Faith of An Edible Mosaic
Andes Mint Cookies from Rebekah of Kitchen Gidget
Chocolate Pots from Kristin of On the Home Front
Red Velvet Cake Mix Cookie Bars from Melissa of Persnickety Plates
Dark Chocolate and Smokey Blue Cheese Gougères from Lisa of Taste Cook Sip
Nutella Cookies from Raquel of Organized Island
Strawberry Sandwich Cookies from Heather of Delicious Not Gorgeous
Mini Chocolate Lava Kiss Cakes from Sue of It's Okay to Eat the Cupcake
Strawberry Cheesecake Cookies with White Chocolate from Lisa of Blogghetti
Chewy Dark Chocolate Coconut Cookies from Jessica of A Kitchen Addiction
Butterscotch Cookies from Marlynn of Urban Bliss Life
Gluten Free Hot Cocoa Cookies from Elaine of Small Farm Big Life
Cherry and Chocolate Chip Cookie Cutter Cookies from Brenda of Meal Planning Magic
Cherry Cheesecake Bars from Laura of Untwisted Vintage
Grapefruit Gin Spritz from Sarah of Chef Sarah Elizabeth
Gluten Free Peanut Butter Cookies from Brianna of Flippin' Delicious
chocolate heart cookies from Meaghan of the decorated cookie
Red Velvet Cheesecake Brownies from Gwynn of Swirls of Flavor
Salted Caramel Bars from Marybeth of Baby Savers
Cotton Candy Buttercream Cupcakes from Nina of Crazy for Cookies and More
Valentine's Day Cookie Cake from Bree of Baked Bree
Red Velvet White Chocolate Chips Cookies from Maria of The Cookware Geek
Valentine's Blondie Bars from Becca of The Salted Cookie
Confetti Cookies from Amy of The Nifty Foodie
Heart of Gold Chocolate Sprinkle Blossoms from Erin of The Spiffy Cookie
Ancho Chili Brownies from Dee of Meatloaf and Melodrama
Heart Shaped Spritz Cookies from Holly of A Baker's House
Strawberry Macarons from April of April Erhard
Sweetheart Chocolate Pretzel Bites from Nicole of For the Love of Food
Gluten-free Peanut Butter M&M Cookies from Michelle of My Gluten-free Kitchen
Raspberry Cinnamon Rolls from Rose of Rose Bakes
Cherry Chocolate Chip Cookies from Courtney of Know Your Produce
Nutella Chocolate Cupcakes for Two from Sara of Confectionary Tales
Butter Almond Mushroom Cookies from Jamie of Southern Revivals
Easy Red Velvet Recipes

Baked in a donut pan, Red Velvet Donuts are so easy to make and take only minutes to bake! An intense red color , cake-like texture and fabulous chocolate flavor guarantee these Red Velvet Donuts will let those special people know just how much they are loved. Top them with a vanilla glaze and valentine sprinkles and love is in the air!
Our Red Velvet Mini Layer Cakes is an easy from scratch cake recipe for your Valentine's Day dessert. Mini cake layers have a deep intense red color and are flavored with cocoa powder for a delicious chocolate flavor. Frost with a homemade buttercream frosting and decorate with Valentine sprinkles and you'll have adorable mini layer cakes that are perfect for sharing on Valentine's Day.
The ever popular red velvet cupcake has just become a cookie! Topped with a peppermint glaze and crushed candy canes, this easy cookie recipe bakes up into Peppermint Crunch Red Velvet Cookies!
Red Velvet Cheesecake Brownies
Red Velvet Cheesecake Brownies is an easy recipe that combines two favorite desserts, brownies and cheesecake. A homemade red velvet brownie cake is topped with a creamy cheesecake batter and baked to perfection. Just in time for Valentine's Day!
Keyword:
cheesecake brownies, red velvet cheesecake
Ingredients
Cheesecake:
1

pkg. (8 ounces)

cream cheese

, at room temperature

½

cup

sugar

¼

cup

sour cream

1

egg

1

tsp.

vanilla extract
Instructions
Brownie:
Combine flour, cocoa powder and salt in a bowl and reserve.

In another bowl combine melted butter and 1 ½ cups sugar.

Stir in eggs, vanilla and red gel food color until blended.

Add reserved flour mixture and stir until combined.

Transfer to prepared pan and bake 25 minutes.
Cheesecake:
Meanwhile, whisk cream cheese and ½ cup sugar until blended.

Stir in sour cream, egg and vanilla.

Evenly spread cheesecake batter over partially baked brownie layer and bake an additional 25 minutes or until cheesecake layer is set.

Cool completely.
Toppings:
Using foil overhang, lift brownies out of pan and cut into 16 pieces.
Recipe Notes
Makes 16 brownies
Nutrition Facts
Red Velvet Cheesecake Brownies
Amount Per Serving
Calories 172
Calories from Fat 27
% Daily Value*
Fat 3g5%
Cholesterol 44mg15%
Sodium 92mg4%
Potassium 73mg2%
Carbohydrates 34g11%
Protein 3g6%
Vitamin A 101IU2%
Calcium 28mg3%
Iron 1mg6%
* Percent Daily Values are based on a 2000 calorie diet.
This recipe is part of Meal Plan Monday and Weekend Potluck