Welcome back to another Reindeer Recipes Blog Tour! I've partnered again with 7 of my blogger friends for our second Reindeer Recipes blog tour for you! If you arrived at Swirls of Flavor from my friend Marsha at M Jones Style, welcome! We have more fabulous recipes and entertaining tips for you this week!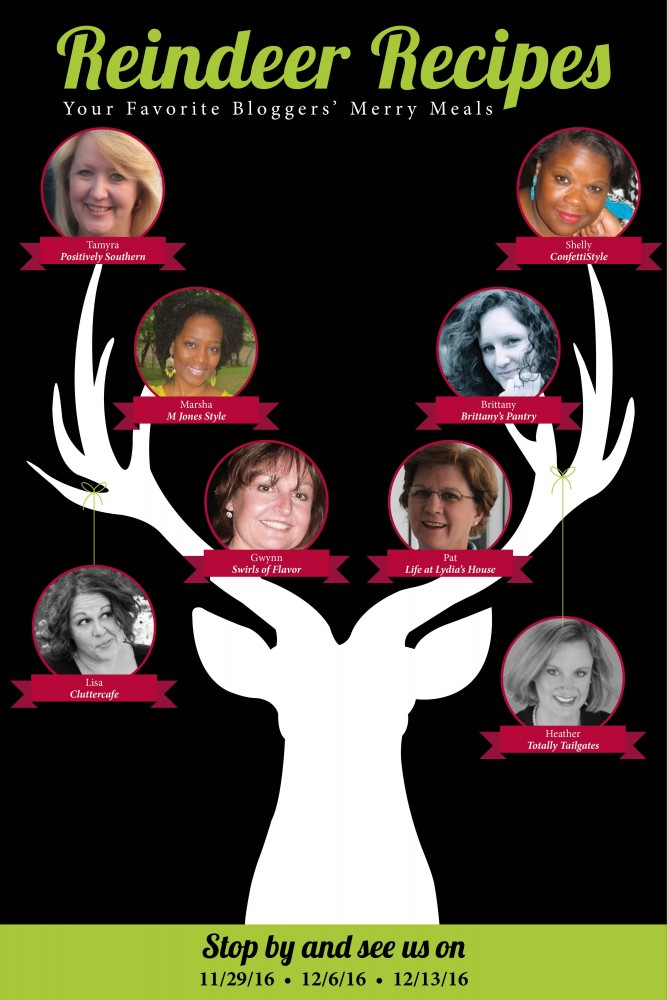 Every holiday get together needs a show-stopping dessert and this year Brownie Cheesecake will take center stage! A creamy cheesecake center flavored with bits of brownies is nestled in a dark chocolate crust and topped with chunks of rich decadent brownies piled high atop a layer of fudge . It's the perfect combination of two dessert favorites in one! Homemade brownies (my recommendation!) will of course taste best but if you're short on time you can always use store bought brownies. Brownie Cheesecake will be a sweet and decadent finish to your holiday celebration!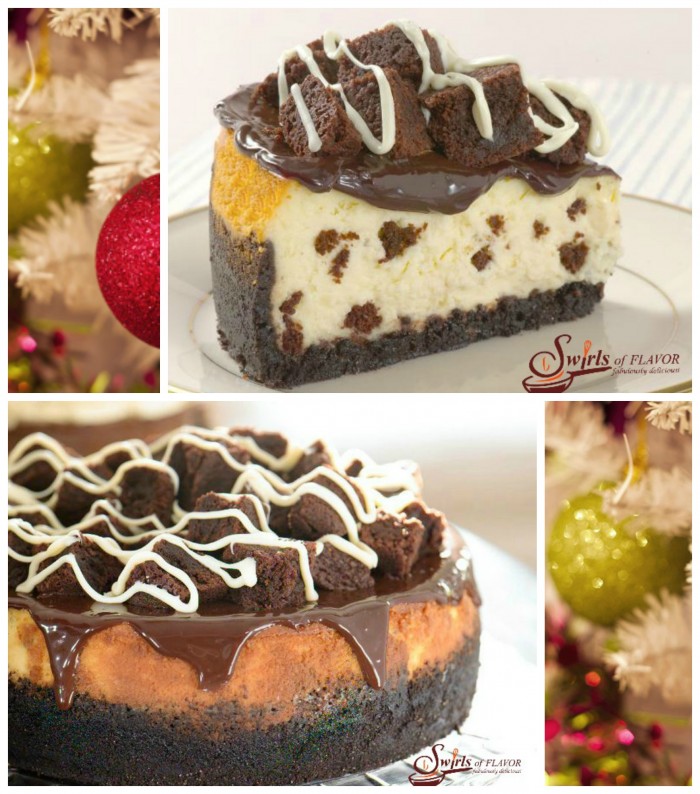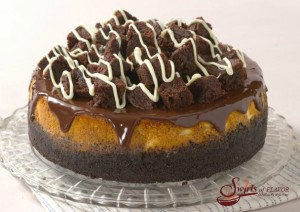 Fudge Brownie Cheesecake
BROWNIES:
1 cup butter
1 1/2 cups sugar
1 1/4 cups flour
1 cup unsweetened cocoa powder
1/2 tsp. salt
4 eggs
1 tsp. vanilla extract
CRUST:
1 1/2 cup chocolate wafer cookie crumbs, about 24 cookies (Nabisco Famous Wafer Cookies)
3 Tbs. sugar
3 Tbs. butter, melted
CHEESECAKE:
3 pkgs. (8 ounces each) cream cheese, at room temperature
1 cup sugar
3 eggs
1 Tbs. vanilla extract
1 pint (16 ounces) sour cream
1 cup finely chopped brownies
TOPPING:
1 cup hot fudge topping
2 cups chopped brownies (bite-size pieces)
1/3 cup white chocolate chips, melted
Preheat oven to 350F. Line a 9-inch by 13-inch baking pan with aluminum foil leaving a 2-inch overhang. Spray with non-stick cooking spray.
BROWNIES: Melt 1 cup butter in large microwave-safe bowl. Stir in sugar, flour, cocoa powder and salt until combined. Add eggs and vanilla and stir until a smooth batter forms. Spread brownie batter in prepared pan and bake 30 minutes or until toothpick inserted in center comes out with moist crumbs. Cool 10 minutes in pan. Using foil overhang lift brownies, transfer to wire rack and cool completely. Use brownies as directed in cheesecake recipe.
Preheat oven to 350F. Place a roasting pan filled halfway with water on bottom rack in oven. Spray a 9-inch spring form pan with non-stick cooking spray.
CRUST: Combine chocolate cookie crumbs and 3 Tbs. sugar in bowl. Stir in 3 Tbs. melted butter until crumbs are moistened. Press crumbs on bottom and halfway up sides of prepared spring form pan.
CHEESECAKE: Beat cream cheese and 1 cup sugar until light and fluffy. Add eggs and vanilla and beat until smooth, scraping sides of bowl occasionally. Add sour cream and beat until blended. Stir in finely chopped brownie pieces. Pour batter over crust and place spring form pan on middle rack in oven, above the pan of water. Do not put cheesecake spring form pan in the pan of water! Bake 1 hour or until center is slightly jiggly and almost set. Turn oven off and leave cheesecake in oven for 30 minutes. Transfer to wire rack, run a knife around edges of cheesecake and cool to room temperature. Refrigerate 8 hours to overnight.
TOPPING: Remove sides of spring form pan. Spread fudge topping over top of cheesecake. Arrange chopped brownies (bite-size pieces) over fudge topping. In small microwave-safe bowl, microwave white chocolate chips 30-60 seconds, stir until smooth. Depending on your microwave wattage you may need to add additional time until you are able to stir chips. Drizzle over brownies.
Makes 16 servings.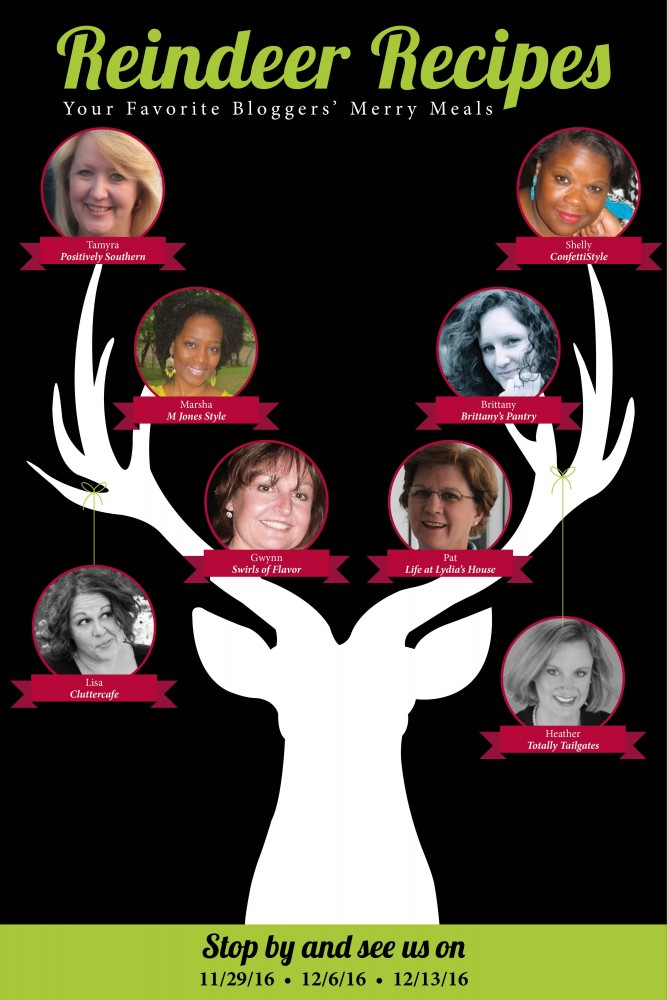 And remember, our holly jolly fun doesn't end here! Your next stop is at Cluttercafe . Stop by and say hello to my sweet friend Lisa at Cluttercafe as you continue on our Reindeer Recipes tour!
And be sure to hop on over and visit Tamyra at Positively Southern, Shelly at ConfettiStyle, Brittany at Brittany's Pantry, Pat at Life at Lydia's House , Heather at Totally Tailgates and Marsha at M Jones Style for more stops on our Reindeer Recipes tour! #reindeerrecipes