Now you can make a creamy and delicious Easy Chicken Pot Pie at home with just a few basic ingredients topped with refrigerated biscuits.
Easy Chicken Pot Pie
When you're craving a bowl of comfort food it's time to make our easy chicken pot pie with biscuits recipe.
Fresh vegetables, cooked chicken and refrigerated biscuits make this an easy comfort food recipe that will be on your table in just about 30 minutes.
A cast iron chicken pot pie makes you feel all warm and cozy especially when it's made with fresh ingredients and lots of love.
This recipe starts on the stove top and finishes in the oven. Such an easy chicken recipe you won't believe you made it from scratch, with a little help from store bought biscuits, of course!
Everyone loves a chicken casserole, especially when biscuits are included and this cast iron chicken casserole will quickly become a family favorite!
Love a good chicken casserole? Then be sure to give our Mexican Chicken Casserole a try!
And if you love a creamy chicken soup then you might want to also check out our Homemade Chicken and Dumplings Recipe too!
How to make chicken pot pie
Full recipe instructions are in the recipe card below
Preheat your oven to 400*F.
Melt butter and cook carrots, onion, celery, thyme, kosher salt and pepper until vegetables are tender-crisp.
Combine milk and flour and add to skillet with chicken.
Bring mixture to a boil and boil for 1 minute.
Arrange biscuits on top of hot filling and bake until biscuits are golden and cooked through.
Swirls of Flavor Recipe Tips
Cut up store bought rotisserie chicken
Make with pre sliced carrots from the produce section
Add frozen peas
Add small red potatoes cut into small bitesize pieces
Make with dried Italian seasoning in place of the dried thyme
Add chopped sundried tomatoes for an Italian flair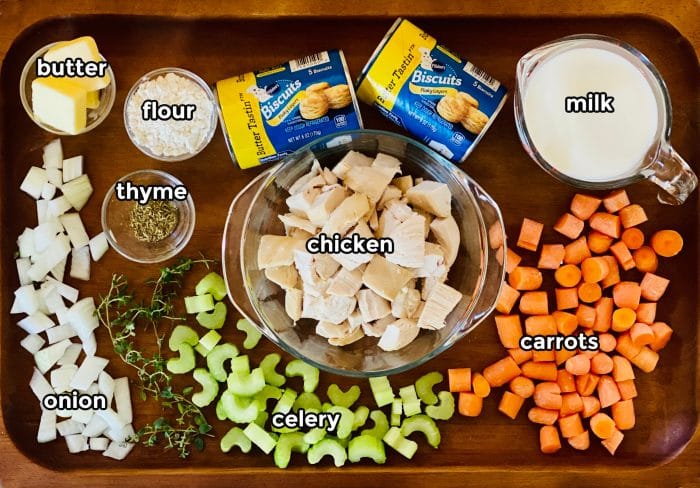 Ingredients for chicken pot pie
butter – adds dairy notes and helps to cook the vegetables
carrots – a vegetable with sweet flavor
onion – gives depth of flavor to the recipe
celery – provides a bit of crunch
dried thyme – a savory seasoning
kosher salt – makes the flavors pop
pepper – adds balance
milk – the base for the creamy sauce
flour – thickens the sauce
cooked chicken – a source of protein
refrigerated biscuits – an easy shortcut for a pot pie crust
More Chicken Recipes
You can never have too many chicken recipes in your menu line up and these easy chicken recipes are sure to please!
I make commissions from affiliate links in this post.