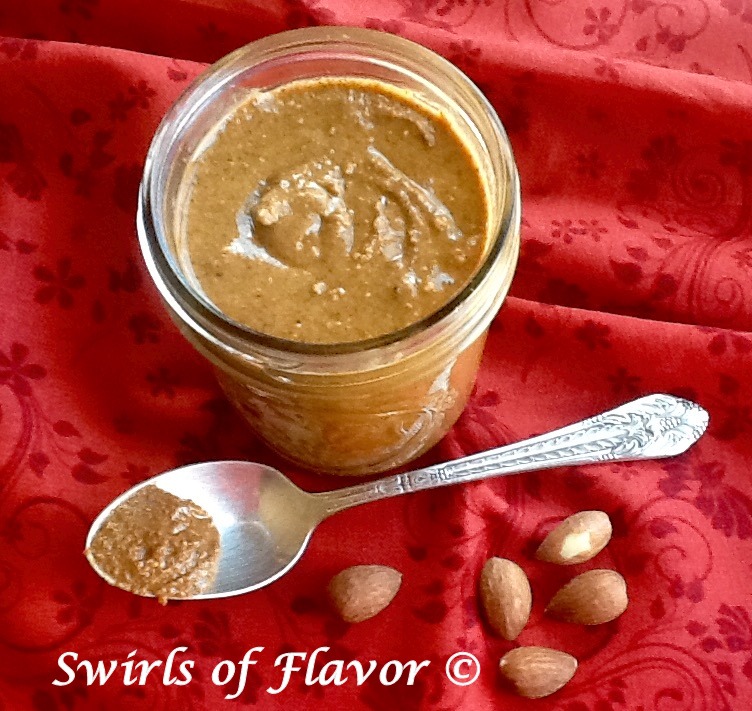 While working on a project for a client recently I realized how easy it really is to make your own almond butter. No need to be paying outrageous prices for a small jar of the healthy nut spread. I've taken out the soaking step, added a hint of cinnamon and the result is fabulous!
Cinnamon Almond Butter
2016-04-03 14:28:31
Serves 24
Nutrition Facts
Amount Per Serving
* Percent Daily Values are based on a 2,000 calorie diet. Your Daily Values may be higher or lower depending on your calorie needs.
Ingredients
1 lb. whole natural almonds
1 tsp. kosher salt
1/8 tsp. ground cinnamon
Instructions
Preheat oven to 350F.
Arrange almonds in single layer on baking sheet and bake 15 minutes until lightly toasted; cool completely.
Reserve 1/4 cup almonds.*
Process remaining almonds in food processor until a creamy mixture forms, scraping sides and bottom occasionally. This step will take 8-10 minutes. While the nuts are chopping the sound will be loud but you will actually hear when it turns into a creamy almond butter. There will be a definite change in the sound. Be sure to stop the food processor every so often to avoid overheating and to scrape the bottom and sides of the bowl.
Add kosher salt and cinnamon and puree 1 minute until blended.
Add reserved 1/4 cup almonds and pulse until small bits are formed, creating a crunchy almond butter.
Transfer to airtight container. Store in a cool dark place or in the refrigerator.
Notes
*Prefer your almond butter to be creamy? Just add all of the almonds to the food processor from the beginning!
Swirls of Flavor https://swirlsofflavor.com/