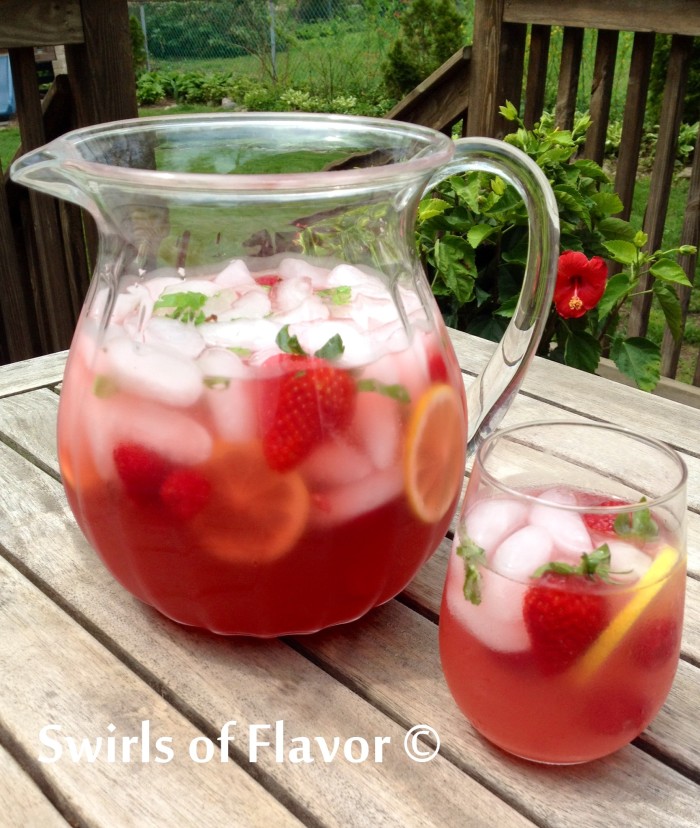 With Mother's Day quickly approaching it's time to start thinking about pampering that special lady in your life. And I can't think of a better way to begin than letting her kick up her feet and sip on a glass of Berry Pink Lemonade Prosecco Punch. Disclosure Policy: Posts may include affiliate links. Swirls of Flavor earns a few cents on the dollar if readers purchase the items I recommend at no additional cost to you. Prosecco, the sparkling white wine hailing from the Veneto region of Italy, is made from the white Glera grape. Glera, the official grape of Prosecco, was actually originally known as Prosecco, hence the name of the sprakling wine. In Italy Prosecco is traditionally only drunk in the springtime. Personally, I will be drinking my Prosecco right through the summer in my new favorite pitcher and glasses set! It's a refreshing bubbly wine featuring the fresh flavors of pear, apple and soft citrus. Perfect for the warm months ahead! Flavored with puckering raspberry lemonade and bubbly Prosecco and topped off with the sweet bursts of fresh berries, Berry Pink Lemonade Prosecco Punch will make this a Mother's Day every mom will especially enjoy! Prosecco Punch is so delicious you'll want to serve it throughout the summer at picnics, barbecues and get-togethers too!
Berry Pink Lemonade Prosecco Punch
1 bottle (750 ml) chilled Presecco
2 cups raspberry lemonade
1/4 cup grenadine
1 tsp. vanilla extract
1 cup fresh raspberries
1 cup fresh strawberries, halved lengthwise
1 lemon, thinly sliced
2 Tbs. thinly sliced fresh basil
1. Combine Presecco, lemonade, grenadine and vanilla. Pour over ice.
2. Stir in raspberries, strawberries, lemon slices and basil. Serve immediately.
Makes 6 cups.