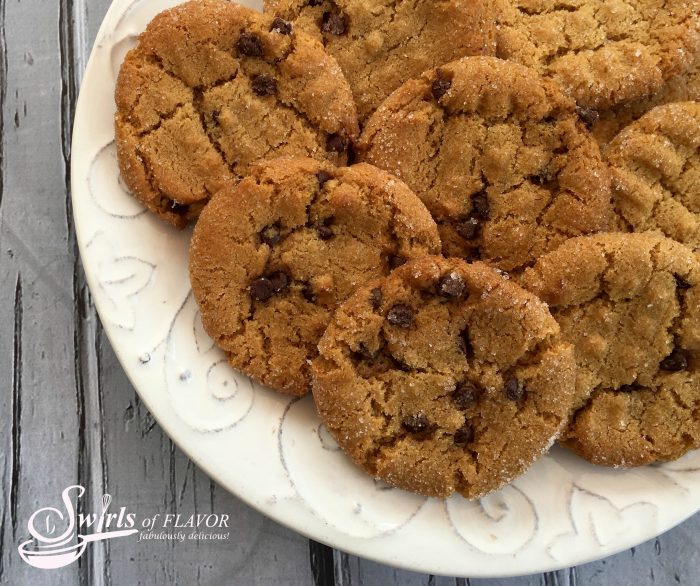 Feeling deprived because you have to eat gluten free? Chocolate Chip Peanut Butter Cookies will change that! These flourless peanut butter cookies are rolled in glistening sugar and studded with mini bits of chocolate. Every bite will remind you of a peanut butter cup candy! Bake up a gluten free treat for someone you love today.
Gluten Free Chocolate Chip Peanut Butter Cookies
2016-09-16 10:30:19
Nutrition Facts
Amount Per Serving
* Percent Daily Values are based on a 2,000 calorie diet. Your Daily Values may be higher or lower depending on your calorie needs.
Ingredients
1 cup creamy peanut butter
1 large egg
1 cup granulated sugar, divided
1/4 cup packed dark brown sugar
1 tsp. baking soda
1 tsp. vanilla extract
1/4 cup mini chocolate chips
Instructions
Preheat oven to 350F.
With mixer on medium-high, beat peanut butter, egg, 3/4 cup granulated sugar, brown sugar, baking soda and vanilla until well combined.
Stir in mini chocolate chips.
Shape into 1-inch balls (about 1 Tablespoonful each) and roll in remaining 1/4 cup granulated sugar, evenly coating all sides.
Arrange 3 inches apart on baking sheet. Using the flat bottom of a glass, gently press each ball into a circle about 1 1/2-inches in diameter. Using tines of a fork, make indentations in tops of cookies.
Bake until edges are firm, about 10 minutes. Cool 2 minutes on baking sheet. Transfer to wire rack and cool completely...or eat warm if you just can't wait!
Notes
Makes 24 cookies.
Swirls of Flavor https://swirlsofflavor.com/