This post contains affiliate links. (Disclosure policy) T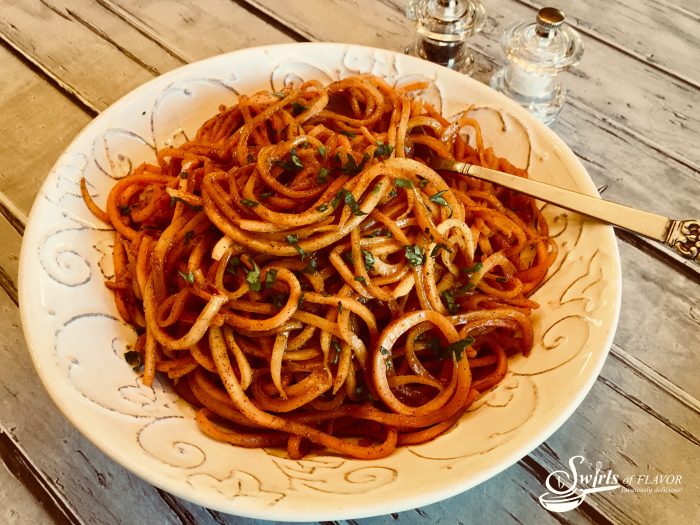 Have you had the pleasure of feasting on the famous baked sweet potato from The Outback Steakhouse? Bites of sweet potato are filled with the flavors of melting butter, cinnamon and brown sugar. Yes, it is heavenly! Let's update this deliciousness with spiralized sweet potatoes, shall we?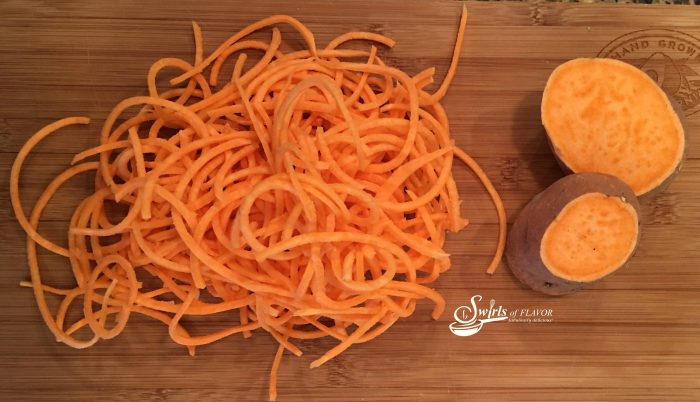 Enter brown Sugar Cinnamon Sweet Potato Noodles. `Sweet potato noodles are coated in a buttery brown sugar cinnamon sauce with just a hint of spice. Not only will you be on trend, you'll save on cooking time too! Now that's a win-win in my book. Do you have a spiralizer yet? I love the handheld spiralizer because it doesn't take up much room in my kitchen but the larger spiralizer with stronghold suction is so very easy to use especially with those sturdier vegetables.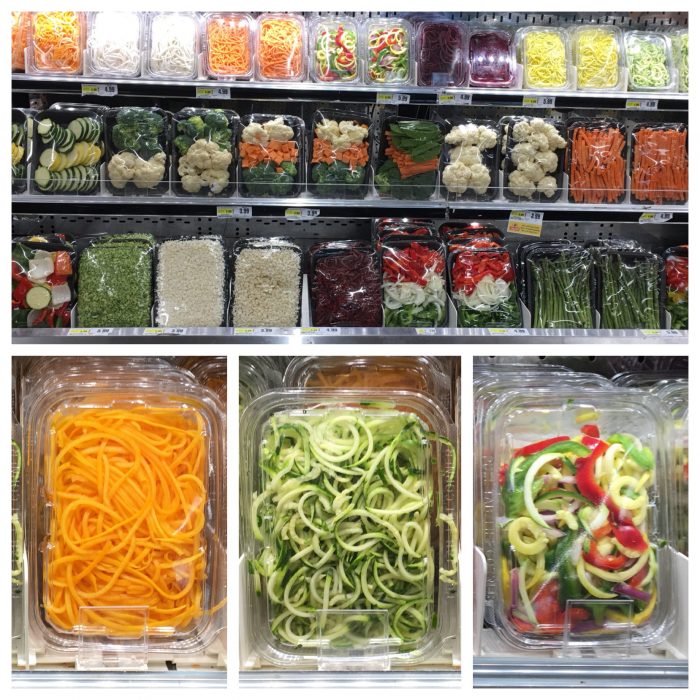 Have you noticed what's in your produce section lately? Yes, there is the typical spiralized zucchini noodle that we have all come to know and love but have you seen all of the other vegetable noodles available now? There are sweet potato noodles, carrot noodles, yellow squash noodles, beet noodles, butternut squash noodles, bell pepper noodles, cucumber noodles, cabbage noodles, onion noodles (yes, onions!) and even broccoli stalk noodles right along side the fresh cut vegetable packages! It really is quite amazing how this spiralizer trend has taken over an entire section of my produce aisle. The health benefits of replacing pasta with a spiralized vegetable, as you can imagine, are amazing. Just check out these spiralized noodles recipes from Shape Magazine. Replacing a baked potato with baked potato noodles is just plain fun and fancy! Just think how elegant Brown Sugar Cinnamon Sweet Potato Noodles will look on your holiday table!`
As an Amazon Associate I earn from qualifying purchases.
Brown Sugar Cinnamon Sweet Potato Noodles
Sweet potato noodles are coated in a buttery brown sugar cinnamon sauce with just a hint of spice. 
Instructions
Melt 2 Tbs. butter in large non-stick skillet over medium-high heat.

Cook sweet potato noodles until tender, using tongs to toss t coat and evenly cook, 4-5 minutes. Remove noodles from skillet.

Reduce heat to medium and in same skillet melt remaining 2 Tbs. butter.

Stir in brown sugar, cinnamon, kosher salt and cayenne and cook until sugar is dissolved, about 1 minute.

Return reserved noodles to skillet and using tongs toss until evenly coated. Cook until tender, 2-3 minutes.

Sprinkle with cilantro.
Nutrition
Calories:
427
kcal
|
Carbohydrates:
105
g
|
Protein:
1
g
|
Fat:
1
g
|
Saturated Fat:
1
g
|
Cholesterol:
2
mg
|
Sodium:
256
mg
|
Potassium:
20
mg
|
Fiber:
3
g
|
Sugar:
7
g
|
Vitamin A:
89
IU
|
Calcium:
57
mg
|
Iron:
1
mg