Our Easy Homemade Cheesecake Sundaes are a fun twist on two all-time favorite desserts. Scoops of frozen homemade cheesecake become your "ice cream". Just add your favorite ice cream sundae toppings for a refreshing dessert.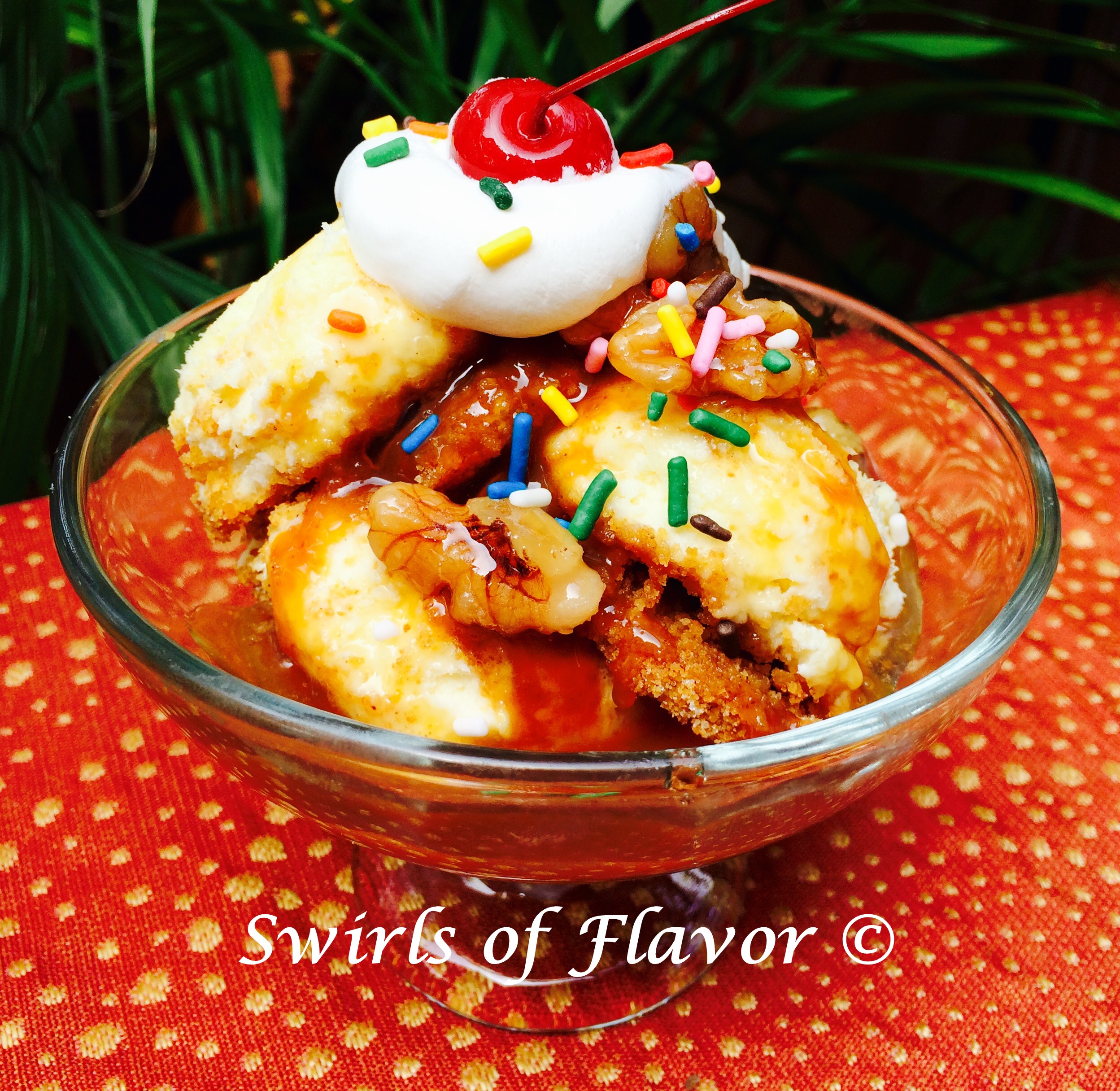 Cheesecake Sundae
Love cheesecake? Love ice cream sundaes? Then you're going to fall in love with scoops of frozen cheesecake topped with your favorite sundae toppings.
Now you don't have to decide between having a slice of cheesecake or a scoop of ice cream. Just have a scoop of frozen cheesecake!
Scoops of creamy cheesecake with a cinnamon-kissed crust combine with your favorite sundae toppings. Personalize your sundae with the sauces, nuts and sprinkles you love most!
You'll be amazed at how easy it is to make a homemade graham cracker crust with our homemade cheesecake recipe. And there's no need for a messy water bath when you make this recipe.
Trust me when I say, creamy scoops of this frozen concoction will have everyone going back for second scoops.
Ice Cream Sundae FAQ's
What are toppings for ice cream sundaes?
The list of ice cream sundae topping choices is endless!
Caramel sauce
Hot fudge sauce
Strawberry sauce
Butterscotch sauce
Wet walnuts
Glazed nuts
Toasted nuts
Crushed cookies
Brownie bits
Peanut butter cups
M&M's
Gummy bears
Chopped candy bars
Mini marshmallows
Sprinkles
Chocolate chips
Shredded coconut
Marachino cherries
Whipped cream
Fresh fruit
Maple syrup
What is the most popular ice cream toppings?
After taking a poll of 2,000 people, chocolate chips are the most popular topping.
What are the most popular ice cream flavors?
The ice cream flavors that were voted the most popular in a survey are:
Vanilla
Chocolate
Cookies N Cream
Mint Chocolate Chip
Chocolate Chip Cookie Dough
Swirls of Flavor Recipe Tips
Change up the flavor of your cheesecake by stirring in one of the following to your batter before baking:
Crushed oreos
Mini chocolate chips
Sprinkles
Crushed chocolate chip cookies
Brownie bits
Ingredients you will need to make this recipe
graham cracker crumbs
sugar
ground cinnamon
butter
cream cheese
eggs
sour cream
vanilla extract
Related Recipes
I make commissions for purchases made through links in this post.
First Published: September 6, 2015... Last Updated: October 29, 2020