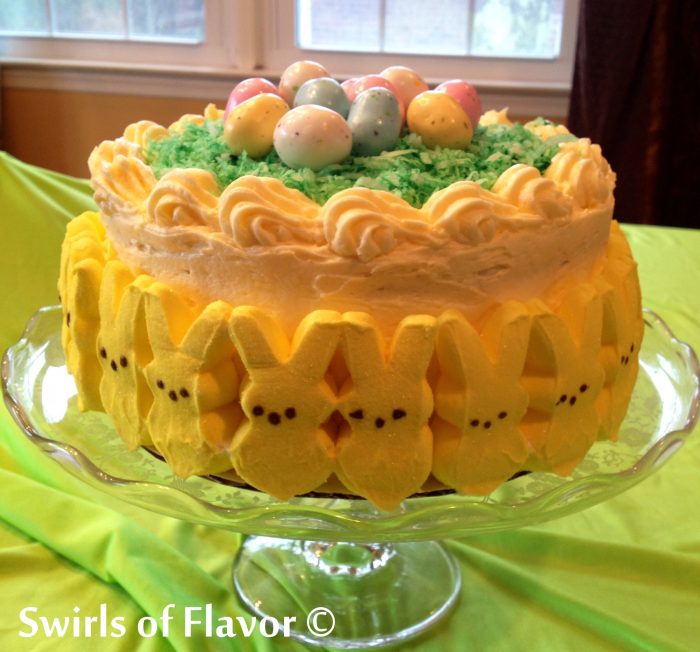 Spring. Easter. Peeps . Peeps are everywhere! So what could be cuter than the refreshing springtime flavor of lemon in a layer cake topped with a coconut nest of candy Easter eggs surrounded by peeps….and peeps….and more peeps? Bunny Peeps Lemon Layer Cake is a luscious lemon cake easily made from a mix, topped with a homemade creamy lemon frosting, not only will this be a fabulously delicious ending to your holiday dinner, it will also be the centerpiece for your holiday table!
We always want to eat dessert first, especially when dessert is Bunny Peeps Lemon Layer Cake, but don't forget the dinner! And when dinner is Panko Crusted Beef Rib Roast, Buttery Lemon Mint Sugar Snap Peas and Golden Potatoes Au Gratin, you'll be more than happy to eat dinner first!
Bunny Peeps Lemon Layer Cake
2018-02-23 17:24:34
Serves 12
Bunny Peeps Lemon Layer Cake is a luscious lemon cake easily made from a mix, topped with a homemade creamy lemon frosting. The perfect Easter dessert and table centerpiece!
Nutrition Facts
Amount Per Serving
* Percent Daily Values are based on a 2,000 calorie diet. Your Daily Values may be higher or lower depending on your calorie needs.
Ingredients
1 pkg. (16.5 oz.) lemon supreme cake mix
3 eggs
1 1/3 cups water
1/3 cup vegetable oil
2 Tbs. lemon zest
1 1/2 cups (12 oz.) butter, at room temperature
6 cups confectioners sugar, 1 1/2 lbs.
1/2 cup store bought lemon curd
liquid yellow food color
22 bunny peeps
open star decorating tip, such as Wilton 22
1/2 cup shredded coconut
green liquid food coloring
assorted speckled malted milk eggs
Instructions
Preheat oven to 350F. Line bottoms of 2 8-inch round cake pans with parchment paper. Coat pans with non-stick cooking spray.
Prepare cake mix according to package directions with eggs, water and oil. Stir in lemon zest. Divide batter evenly between prepared pans. Bake 25 minutes or until toothpick inserted in centers comes out clean. Cool in pans 5 minutes. Transfer to wire racks. Remove parchment paper and discard. Cool completely on wire racks.
With mixer on medium speed, beat butter until smooth. Gradually add confectioners' sugar, lemon curd and several drops of yellow food color. Beat until light and fluffy, 3-4 minutes.
Place 1 cup of frosting in pastry bag fitted with decorating tip; reserve. Place one cake layer on serving dish. Spread 1 cup of frosting over top of cake layer. Top with remaining cake layer. Frost top and sides of cake with remaining frosting.
Gently press bunny peeps on sides of cake.
Using reserved frosting pipe edge around top of cake.
In plastic ziplock food storage bag combine coconut and several drops of green food coloring. Seal and shake until coconut has turned green.
Arrange green coconut and speckled eggs on top of cake.
Swirls of Flavor https://swirlsofflavor.com/