Disclosure: This post contains affiliate links. Swirls of Flavor earns a few cents on the dollar to help support this blog, when readers purchase items I recommend, at no additional cost to you. Thank you for your support!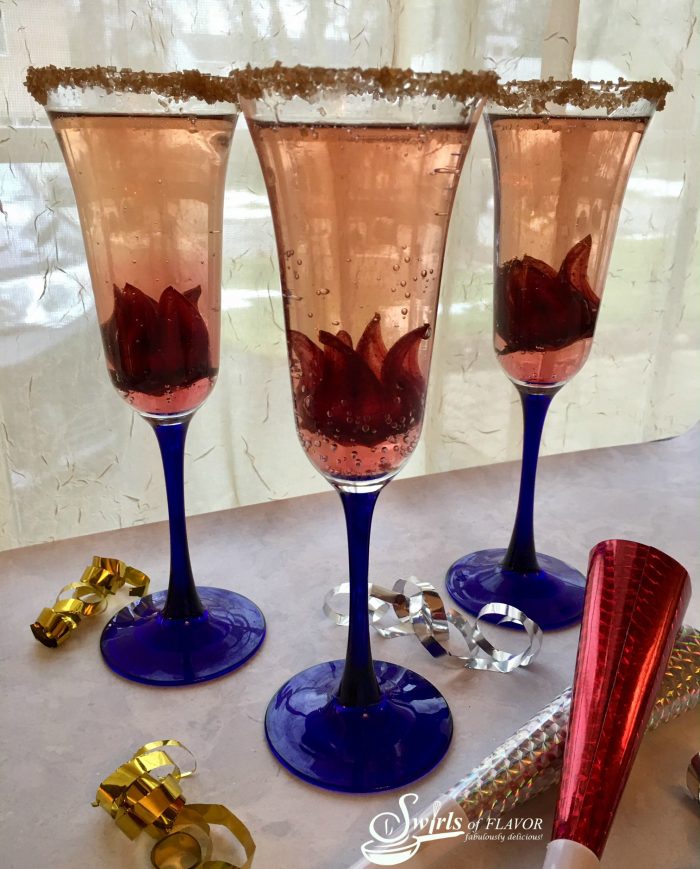 Welcome in 2017 with a dressed up sparkling cocktail! Wild Hibiscus flowers unfurl as the bubbles in your glass fizz! Add a teaspoon of the syrup and flavor your favorite sparkly cocktail with a hint of raspberry-rhubarb. Garnish you glass with a sugar glitter edge and you've taken your New Year's cocktail to another level of fancy!
Happy New Year!
Wild Hibiscus Sparkling Cocktail
Light corn syrup (Caro) or honey
Edible gold sugar glitter
1 jar (8.8 ounces) Wild Hibiscus Flowers in Syrup,* approximately 11 flowers
Your favorite sparkling beverage, such as Champagne, Prosecco, Pellegrino or Ginger Ale
1. Dip rims of glasses in corn syrup or honey and then in gold sugar glitter.
2. Place one hibiscus flower and 1 teaspoon syrup in bottom of each glass.
3. Add your favorite sparkling beverage and cheer in the new year!
*Wild Hibiscus Flowers in Syrup were provided by The Burrell Group Ltd. and the Wild Hibiscus Flower Company. All opinions are my own.