The newest trend around, Dalgona Whipped Coffee, is a refreshing drink that's so easy to make. We also take this popular dalgona recipe to a new level and add a coffee liqueur to it for an Easy Dalgona Cocktail, this week's happy hour special. So delicious and right on trend!
Whipped Coffee
We've all seen it on Tik Tok and now the recipe is here for you at Swirls! So easy to make and so delicious to sip on, our Dalgona Whipped Coffee recipe will quickly become a trend at your house too.
Trust me, once I made my first glass of this coffee beverage, I have made one every day since. Yes, I cannot get enough of it. I savor every sip, every time!
You can make your whipped coffee drink either hot or cold. I've made this recipe an iced drink but feel free to serve it with warmed milk for a coffee drink that will warm you through and through.
Dalgona FAQ's
What is dalgona?
Dalgona is a coffee drink that, according to Wikipedia, originated in India, and recently became popular in South Korea. It is made by whipping equal parts of instant coffee, sugar and hot water until it thickens and becomes creamy in texture. This creamy coffee mixture is then added to cold or hot milk.
Why is dalgona coffee also called "400 coffee"?
The whipped coffee mixture is typically beaten 400 times until it becomes thick and creamy and therefore sometimes nicknamed "400 coffee".
What can I substitute for almond milk?
I love almond milk and use that as my base for this recipe along with ice cubes. Feel free to use your favorite milk drink such as:
cashew milk
coconut milk
macadamia milk
oat milk
reduced fat milk
soy milk
whole milk
Can I substitute instant espresso for instant coffee?
Love a strong coffee drink? I've made this whipped coffee drink using instant espresso powder too, and let me tell you, it delivers a punch of coffee flavor! So go ahead and give it a try.
If you love an espresso and you love your coffee extra strong, use instant espresso powder in place of the instant coffee, you will be hooked!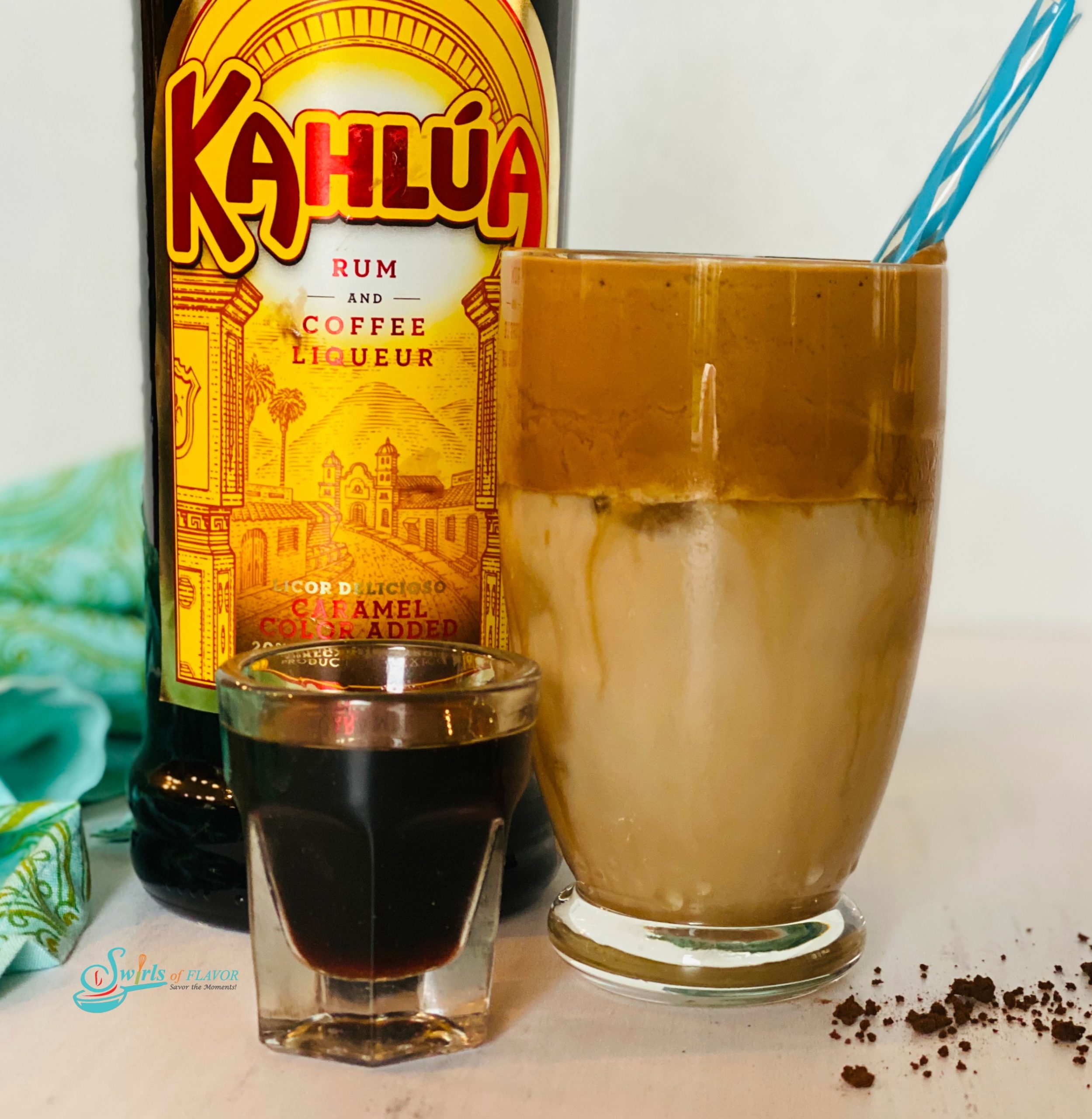 What is a Whipped Coffee Cocktail?
To make a Whipped Coffee Cocktail, I added a coffee liqueur to the dalgona coffee drink.
Just prepare the recipe as written below, adding a shot of coffee liqueur, such as Kahlua, to the almond milk and ice. Cheers!
I make commissions for purchases made through links in this post.
Love your Happy Hour cocktail? Why not give The California Wine Club's Premier Series, the most popular of all the clubs a try and have wine delivered right to your doorstep!
Ingredients you will need to make this recipe
instant coffee or instant espresso powder
granulated sugar
hot water
almond milk
ice cubes
coffee liqueur, optional
Recipes with Coffee

Espresso Rubbed Grilled Steak is seasoned with the flavors of espresso, brown sugar for a little balance and sweetness, ancho chile pepper for a bit of a kick and smoked paprika for a hint of smokiness. The flavors on this steak are to die for!
Cold creamy ice cream and rich chocolate milk combine with the coffee liqueur Kahlua to make our Kahlua Milkshake, the perfect adult beverage. Finished with whipped topping, chocolate fudge sauce and cherry on top our coffee milkshake will be the hit of your next summertime happy hour!
Espresso Brownies With Kahlua Ganache is a homemade brownie recipe made with chopped chocolate and flavored with espresso powder giving these brownies a deep rich chocolate flavor. A silky Kahlua chocolate buttercream frosting adds the finishing touch.
Double Chocolate Espresso Cookies combine the flavors of chocolate and coffee in a decadent cookie recipe. When deep rich chocolate cookie dough is flavored with espresso, studded with mini chocolate chips and rolled in sprinkles, every bite is an indulgence.
Dalgona Whipped Coffee and Easy Dalgona Cocktail
The newest trend around, Dalgona Whipped Coffee, is a refreshing drink that's easy to make. We also take this popular dalgona recipe to a new level and add a coffee liqueur to it for this week's happy hour special. So delicious!
Instructions
Combine instant coffee and sugar. Stir in hot water and whisk or beat until mixture thickens and becomes light in color.

Combine almond milk and ice cubes in glass. Add coffee liqueur with the almond milk and ice cubes, if making a cocktail.

Top with whipped coffee mixture and enjoy!
Notes
Makes 1 serving.
Prefer a hot beverage? Just warm the milk and leave out the ice cubes!
Nutrition
Calories:
152
kcal
|
Carbohydrates:
32
g
|
Protein:
2
g
|
Fat:
2
g
|
Saturated Fat:
1
g
|
Sodium:
227
mg
|
Potassium:
354
mg
|
Fiber:
1
g
|
Sugar:
24
g
|
Calcium:
218
mg
|
Iron:
1
mg
This recipe is part of Meal Plan Monday and Weekend Potluck