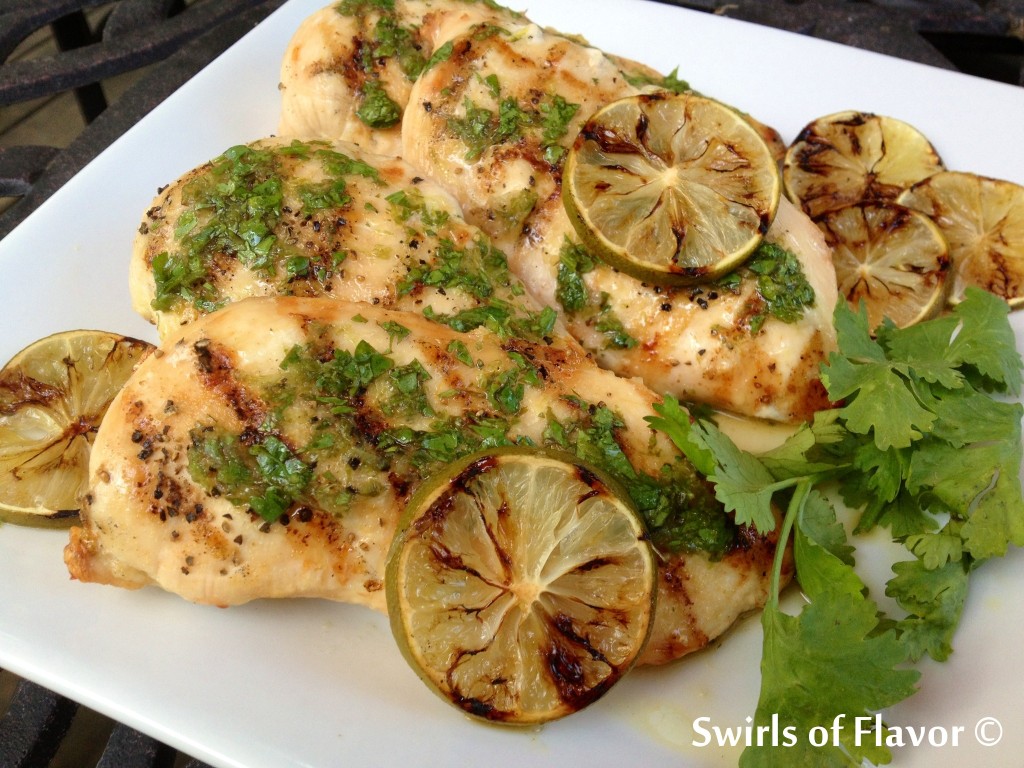 Summer and grilling go hand-in-hand and I am totally in love with this season. Thoughts of warm sunshine, relaxing at the beach, fresh herbs and vegetables, fragrant colorful flowers cut from my garden, the sounds of kids playing in the yard and the ringing bells of the ice cream truck always make me smile. Add to that firing up the grill for fresh and flavorful food and I'm one happy lady! Bursting with flavor, Cilantro Lime Grilled Chicken is guaranteed to put a smile on your face too! Easy to make, fabulously delicious and healthy for you too.....you'll be coming back to this recipe time and time again!
Cilantro Lime Grilled Chicken
2 Tbs. olive oil
2 Tbs. chopped cilantro
2 Tbs. fresh lime juice
1 Tbs. lime zest
4 boneless skinless chicken breasts
1/2 tsp. kosher salt
1/4 tsp. cracked black pepper
1/4 tsp. garlic powder
1 lime, thinly sliced crosswise, about 8 slices
1. Preheat grill for direct-heat grilling.
2. In small bowl combine olive oil, cilantro, lime juice and lime zest until blended. Reserve.
3. Season chicken with kosher salt, cracked black pepper and garlic powder.
4. Grill chicken until juices run clear and meat thermometer reads 165F, turning once, and brushing with 1-2 Tbs. of reserved cilantro lime mixture during last 5 minutes of grilling.
5. Remove chicken from grill. Arrange on serving dish and drizzle with remaining cilantro lime mixture. Let stand 5 minutes.
6. Meanwhile, grill lime slices until just caramelized, turning once, about 2-3 minutes. Serve lime slices with chicken.
Makes 4 servings.