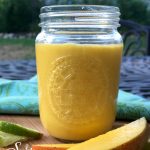 Chipotle Mango Vinaigrette is a sweet yet tangy creamy homemade salad dressing with just a hint of spice. Juicy sweet mango combines with key lime juice and honey for a fresh summery flavor combination that will dance on your taste buds.
Combine all ingredients in blender and puree until smooth.
Makes 1 1/4 cups.
*No fresh mango? No problem! Just use frozen mango slices, thawed.