Broccoli Rabe Pancetta Pasta is a hearty pasta recipe that will warm you up on a chilly evening. This Italian recipe, bursting with nutritious broccoli rabe and bits of flavorful pancetta, will transport you to Italy in your very own kitchen. Orecchiette pasta, shaped like "little ears", catch the bits of broccoli rabe, onion, garlic and pancetta for your every bite!
Makes 4 servings (5 cups).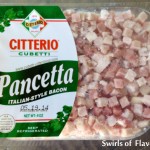 Prepackaged diced pancetta can be found in the refrigerated section of your supermarket. Not available in your supermarket? Just buy a 4 ounce piece of pancetta in the deli department and cut into small diced pieces.