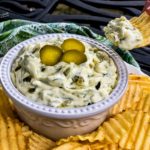 Dill Pickle Dip is an easy recipe for a creamy, tangy cream cheese dip that's flavored with pickles, relish, pickle juice and fresh dill. A delicious party dip that takes just minutes to make and will be a hit at your next party!
Keyword:
dill pickle dip, pickle dip, sweet pickle dip
Top with pickle slices and serve with potato chips or your favorite dippers.
Makes 1 ½ cups
12 servings (2 Tbs./serving)