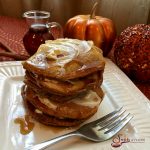 When National Pancake Day meets Pumpkin Spice season, Pumpkin Spice Pancakes, an easy homemade pancakes recipe seasoned with pumpkin puree and pumpkin pie spice, is born! Delicious for breakfast or as for breakfast for dinner, Pumpkin Spice Pancakes are lightened with seltzer!
Course:
Breakfast, Brunch
Combine flour, coconut sugar, pumpkin pie spice, kosher salt and baking powder.

Stir in egg and pumpkin puree.

Add seltzer and stir until just blended.

Coat large non-stick skillet or griddle with cooking spray and heat over medium-high heat.

Cook pancakes, turning once, until cooked through.

Serve with butter and maple syrup, of course!
Makes 2 1/3 cups batter/about 12 (3-inch) pancakes