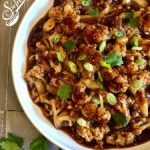 General Tso's Cauliflower will replace your Chinese take out! A silky sauce seasoned with fresh ginger, garlic and red pepper flakes, for just a touch of heat, surrounds tender cauliflower for the perfect meatless meal.
Course:
Main Course, Side Dish
Keyword:
cauliflower recipes, General Tso cauliflower, General Tso sauce
Place cauliflower and 1/4 cup water in non-stick skillet. Cover and cook over medium heat until cauliflower is tender crisp, 4-5 minutes.

Meanwhile combine remaining 1/3 cup water, rice vinegar, soy sauce, brown sugar, cornstarch, Hoisin sauce, ginger, garlic and red pepper flakes in small bowl and stir until cornstarch is dissolved and mixture is blended.

Uncover cauliflower and stir in sauce mixture. Bring to a boil and simmer, uncovered, until sauce has thickened and cauliflower is tender.

Top with cilantro leaves and scallion.
Serve with brown rice or rice noodles.