Who knew? Tips and bits of culinary information
I'm always gathering lots of kitchen tips, food facts and other bits of culinary information for you to browse through because….who knew? Now you do!
Tips and Bits of Culinary Knowledge:
Toasting nuts in microwave: Simply arrange nuts in single layer on paper plate. Microwave for 1 minute. Then microwave in 30-second intervals until lightly toasted. Timing will vary according to wattage of your microwave.
For quick clean-up line inside and up the sides of your roasting pan with foil, preferably heavy duty foil. After cooking, remove food to serving dish and then just lift foil out of pan and discard. Your pan will only need a quick rinse!
Measuring honey or other sticky food? Coat measuring spoon or measuring cup with cooking spray then measure. All the honey will slide right out for you!
The perfect hardboiled egg: Cover raw eggs with cold water in pot. Bring to boil over medium-high heat. Remove from heat. Let stand 11 minutes. Drain; cover with cold water. Let stand until eggs become cool, about 30 minutes; drain. Enjoy or refrigerate until hungry!
Can't tell the difference between your raw and hard-boiled eggs? Using a sharpie, mark hard-boiled eggs with an "X" and refrigerate until you're hungry!
No sour cream on hand? Plain Greek yogurt is a great substitute and vice versa…..and healthy for you!
Always store your spices and herbs in a cool, dry place. Humidity, light and heat will cause them to lose their flavor.
Not using all that fresh parsley? Don't let it go to waste. Instead, chop and freeze in an ice cube tray. When you need some fresh herbs just defrost the herb ice cube, drain and use! This works with all fresh herbs.
Making a vinaigrette for your salad? Mix your vinaigrette ingredients right in your serving dish, add salad ingredients, toss and serve! Less to clean-up!
Love roasted garlic? No need to turn on your oven. Just "dry roast" them on your stovetop! Simply cook garlic cloves in their skins in non-stick skillet over medium-high heat until skins are golden brown with spots of dark brown, turning occasionally. Let cool. Remove skins and enjoy your roasted garlic!
The flavor of raw garlic is 2-4 times stronger than roasted garlic!
Versatile roasted garlic! Roasted garlic can be spread like butter on toast or crackers; finely chopped and added to salad dressings; stirred into salsa; added to soups!
A perfect portion of almonds is a one-ounce handful or about 23 almonds and contains 3.5 grams of fiber and 6 grams of protein. – California Almond Board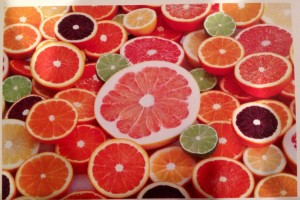 One orange provides all the vitamin C an average person needs each day. – Sunkist
Oranges are fat-free, sodium-free and cholesterol-free. – Sunkist
At only 80 calories, oranges are a nutritionally filling snack thanks to thier fiber and water content. – Sunkist
Just 1 ounce (2 Tablespoons) of fresh lemon juice contains 20% of your vitamin C! – Sunkist
Lemons are fat-free, cholesterol-free, sodium-free and low calorie. – Sunkist
Add lemon juice to tea to help increase the absorption of antioxidants. – Sunkist
Meyer lemons are sweeter and milder than standard lemons and have palate-pleasing light herbal flavor notes.
To get the most juice out of a lemon or lime microwave it for 15-20 seconds.
Avocados are technically classified as a fruit! – Hass Avocados
To speed up the avocado ripening process place unripe avocados in a brown paper bag with an apple or banana at room temperature for two to three days until avocados yield to gentle pressure. – Hass Avocados
Add leaves of fresh herbs, such as cilantro, parsley, oregano or basil, to your salad for a burst of fresh flavor.
To test if your cake is baked through gently press the center with your fingertip. If it springs back it's done. If it leaves an indent keep on baking!
Don't dilute your iced tea or iced coffee with plain ice cubes. Freeze tea or coffee in ice cube trays and use them to chill your beverage. Your coffee or tea will keep it's flavor as the cubes melt!
Need to sweeten your iced tea or coffee? Make a simple syrup by combining 1 cup water and 1 cup granulated sugar in a saucepot. Heat until sugar has dissolved and mixture is clear. Remove from heat; cool. Use syrup to sweeten your beverage. Store in refrigerator up to 2 weeks.
Flavor your simple syrup with a stir-in. After removing syrup from heat simply add vanilla extract, lemon zest, orange zest or ground cinnamon……..the possibilities are endless!
Brussel Sprouts are high in fiber, low in calories and have cancer-preventing properties.
Herbes de Provence is a blend of spices typical of the cuisine of southern France. There are many variations of this blend and all are versatile and delicious in salads, as well as on fish, chicken and pizzas! Typically found in the spice aisle of your grocery store, you can easily make your own blend by combining 1 Tbs. dried oregano, 1 Tbs. dried thyme, 2 tsp. dried savory, 1/2 tsp. dried basil, 1/2 tsp. dried sage, 1/2 tsp. dried crushed rosemary and 1/2 tsp. dried lavender and store in an airtight container.
Cherries, the new super fruit, contain antioxidants which may help to reduce the risk of cancer and heart disease, have anti-inflammatory properties and are a good source of potassium.
A serving of about 20 fresh cherries is less than 100 calories.
Check out these links from Haas avocados and you'll be an avocado expert in no time at all!
http://www.avocadocentral.com/how-to/how-to-pick-how-to-buy-avocados
http://www.avocadocentral.com/how-to/how-to-cut-how-to-peel-prepare-avocados
http://www.avocadocentral.com/how-to/how-to-store-how-to-ripen-avocados
Become a fan of the Hass Avocado Facebook page and you'll always be "in the know"!https://www.facebook.com/hassavocados
With it's shape similar to a pear and it's leather-like skin, the avocado is also referred to as an alligator pear. This super food grows on tall evergreen trees that can grow up to 65 feet in height. Avocados can vary in weight from 8 ounces to 3 pounds depending upon the variety.
Pesto, the fresh sauce originating in Genoa in the Liguria region of northern Italy and enjoyed by the Ancient Romans, consisted of the traditional combination of basil, garlic, olive oil, pine nuts and Parmigiano Reggiano cheese.
Pomegranate, one of the oldest known fruits, is an amazing nutrient-dense and antioxidant-rich fruit. It is a symbol of eternal life, health and fertility. It's tough red outer skin is filled with brilliantly colored edible seeds.
Blueberries, the super food we all know and love, is not only bursting with vitamins, minerals and fiber, it's low in calories too! One of nature's best foods, the blueberry is native to North America and has been around for over 13,000 years!
Kale is related to brocoli, cauliflower, collard greens and Brussel sprouts. Not only is kale rich in beta carotene, vitamin K, vitamin C and calcium, it also has anti-cancer properties, boosts DNA repair in cells, lowers cholesterol and decreases the absorption of dietary fat. Now that's a vegetable with super powers!
Butternut squash is a fruit, yes a fruit, that grows on a vine. A winter squash that is rich in fiber, manganese, magnesium, potassium and vitamins A, C & E, butternut squash has a sweet nutty taste similar to pumpkin. It has an outer yellow skin and an orange fleshy pulp that becomes a deep orange and sweetens as it ripens. It's seeds are edible, either raw or roasted, and it's outer skin softens and becomes edible when it is roasted.
Siracha sauce is made from sun ripened chilies that are ground into a smooth paste along with garlic, distilled vinegar, sugar and salt. Siracha sauce makes the best hot wings ever!
Chia seeds are higher in omega 3′s than salmon, containsmore antioxidants that blueberries, and have more fiber than bran flakes. This nutrient dense nutty-tasting seed is not only rich in omega 3′s, antioxidants and fiber it also provides calcium, phosphorous, protein and magnesium! It's beneficial for those dealing with diabetes, hypoglycemia, celiac disease and high cholesterol. Sprinkle them on salads and yogurt, stir into butter, add to your pancake batter, and bake up in cakes and breads.
Cauliflower is the nutritious, delicious, trendy vegetable that is packed with major health benefits. A source of vitamins B6, C and K, fiber, manganese and omega-3s, cauliflower also provides nutrient support for the body's detox system, the antioxidant system and the anti-inflammatory system. Even better, it is low in fat and carbohydrates and high in fiber and folate! When buying this sweet nutty-flavored vegetable, look for clean creamy white colored heads that feel heavy for their size and are surrounded by fresh looking ribbed green leaves.
Gianduja, the culinary name for the scrumptuous chocolate hazelnut spread recipe, was originally created in Italy when a tax was imposed on cocoa beans. When it became too expensive to produce pure chocolate a hazelnut paste was added to chocolate to stretch it out. It actually was 71.5 % hazelnut spread and just 19.5 % chocolate….and fabulously delicious! Here's to the cocoa bean tax! Without it there might never be nutella.
Peaches are a member of the rose family and originate from China. Peaches are not only low in calories (about 70 calories for a large peach), they also contain fiber, numerous vitamins, minerals and health promoting compounds.
Plums contain antioxidants, beta carotene, potassium , fluoride and iron and also have properties that prevent cell damage!
Wondering how to select the perfect pineapple? Just look for green fresh-looking leaves at the crown, a plump and heavy fruit with bright "eyes" and a fragrant sweet pineapple aroma at the stem end. The fruit will become juicier and softer if left out at room temperature for two days. To extend the life of the pineapple even further, refrigerate an additional three to five days. Although available year round, peak pineapple season is March through July.
Tomatoes will help lower your total cholesterol, LDL cholesterol, and triglycerides along with lowering your risk of heart problems. Tomatoes have antioxidant properties, promote bone health and have anti-cancer benefits. They also contain excellent amounts of Vitamin C and beta-carotene and are a good source of manganese and Vitamin E.