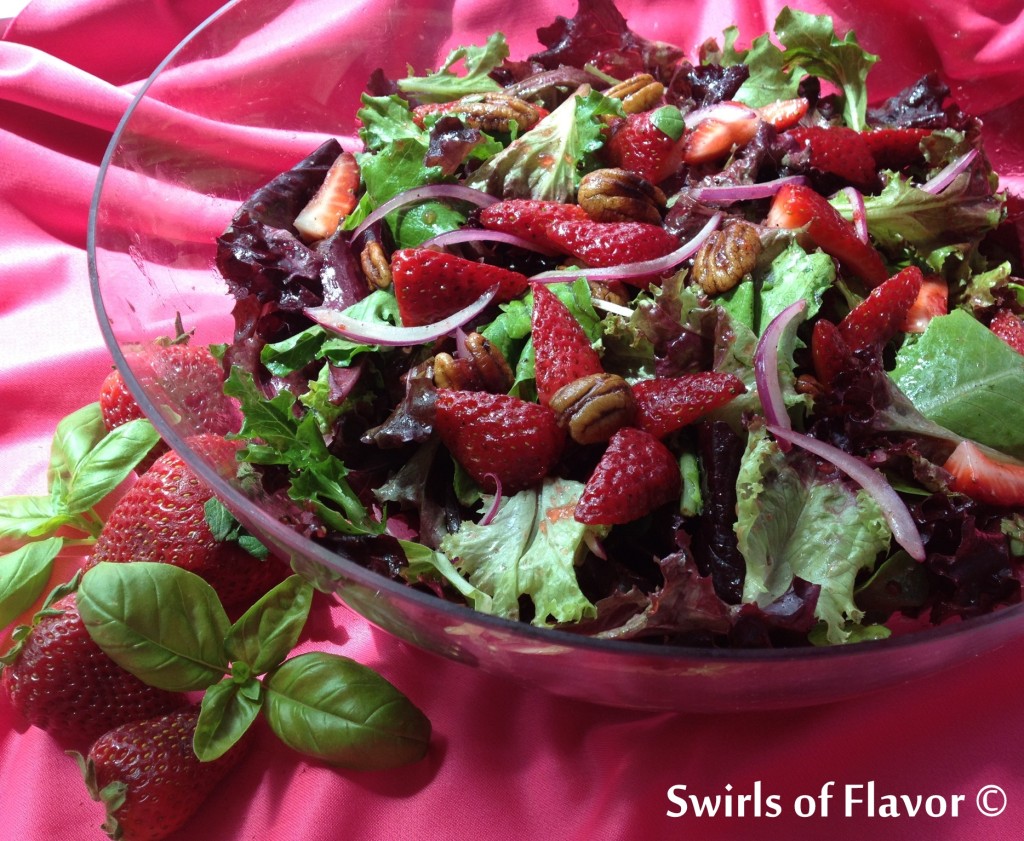 It's strawberry season! It's strawberry season! I am so excited that it's strawberry season! The sweet fragrance, beautiful deep red color and absolutely divine flavor of this delicious fruit is simply to die for! You'll definitely enjoy your strawberries in this refreshing baby greens salad with pecans that lend just the right amount of spice and a strawberry basil balsamic vinaigrette that sweetly coats the delicate salad greens and fruit. Hooray for strawberry season!
Strawberry Baby Greens Salad with Buttery Spiced Pecans & Strawberry Basil Balsamic Vinaigrette
1 Tb. butter
1/2 tsp. ground cinnamon
1/2 tsp. ground cumin
3/4 tsp. kosher salt, divided
1/8 tsp. chipotle chile pepper
1 cup pecans, 4 oz.
1/4 cup olive oil
3 Tbs. strawberry preserves
2 Tbs. white balsamic vinegar
2 Tbs. chopped fresh basil
1/4 tsp. pepper
8 cups baby greens, about 4 oz.
8 strawberries, trimmed, quartered, about 1 cup
1/4 cup thinly sliced red onion
1. In medium non-stick skillet over medium heat melt butter. Add cinnamon, cumin, 1/4 tsp. kosher salt and chipotle. Stir in pecans. Cook until pecans are fragrant and lightly toasted, stirring occasionally, about 3 minutes. Transfer to wax paper; cool.
2. In serving bowl combine olive oil, strawberry preserves, vinegar, basil, pepper and remaining 1/2 tsp. kosher salt. Whisk until blended.*
3. Add greens, strawberries, red onion and pecans.
4. Toss until evenly coated.
Makes 8 cups tossed salad.
*If preparing salad to serve later in the day, make vinaigrette in separate bowl and just toss before serving!