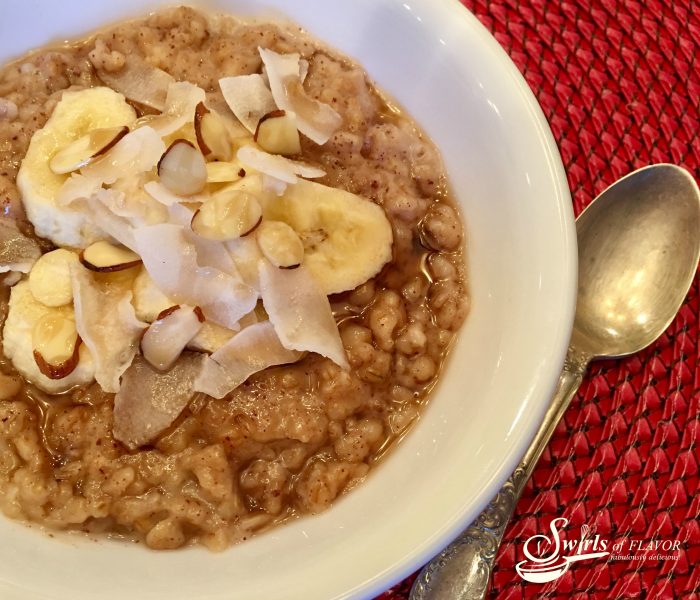 What could be better than waking up to a steaming creamy pot of oatmeal on a cold winter morning? Sounds perfect to me! Let your slow cooker do the work while you're having sweet dreams and wake up to a delicious cinnamon oats breakfast.
Did you know that steel cut oatmeal provides high levels of fiber and protein, low levels of fat, stabilizes your blood sugar, removes bad cholesterol and is low in calories?
The saturated fat in cream of coconut is a healthy good fat that your body can quickly metabolize and turn into energy.
Almond milk is low in carbs, low on the glycemic index, promotes strong bones and a healthy heart and contains vitamin E for healthy glowing skin.
Stir in chopped banana and top with a drizzle of honey, my favorite is Honey Ridge Farms, or maple syrup and you're off to the start of a delicious nutritious day!
This recipe makes enough for a crowd, or several individual servings that you can just reheat in the microwave or on the stovetop over low heat each morning. Good morning to you! #NationalOatmealMonth
Slow Cooker Banana Coconut Oatmeal
2 cups steel cut oatmeal
4 cups almond milk
4 cups water
1 can (15 ounces) cream of coconut
1 Tbs. ground cinnamon
1 Tbs. minced crystallized ginger
2 ripe bananas, mashed
sliced almonds, shredded coconut and additional banana slices, suggested garnishes
honey or maple syrup
1. In slow cooker combine almond milk, water, oats, cream of coconut, cinnamon and crystallized ginger, stirring until blended.
2. Cook on low 6-8 hours or until mixture is soft and creamy.
3. Before serving, stir in chopped bananas.
4. Top with sliced almonds, shredded coconut and additional banana slices.
5. Drizzle with honey or maple syrup .
Makes 10 cups.
Disclosure: This post contains affiliate links. Swirls of Flavor earns a few cents on the dollar to help support this blog, when readers purchase the items I recommend, at no additional cost to you.