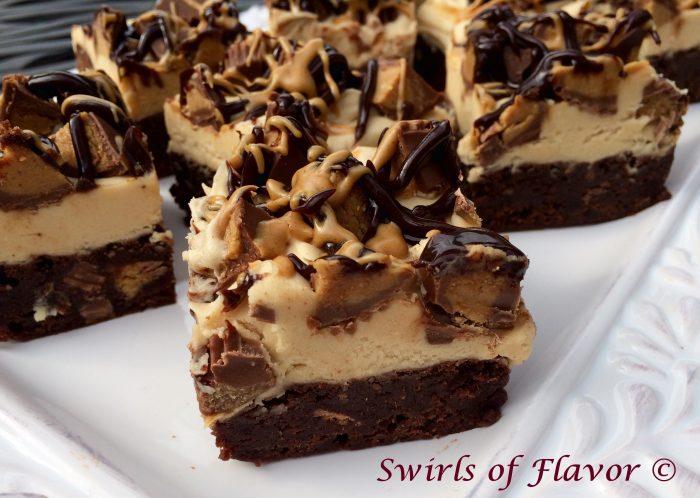 If you love brownies and you love peanut butter and you love chocolate peanut butter cup candy then hold on to your seat because these brownies are going to blow you away! Rich chocolate brownies studded with chunks of peanut butter cup candy are baked to perfection and topped with a creamy peanut butter buttercream frosting. But that's not all! Top that buttercream frosting with more chunks of peanut butter cup candy and then drizzle with hot fudge topping and peanut butter! Yes, please! I'm sitting down for this dessert! This calls for a celebration!
Peanut Butter Cup Brownies
Brownie:
12 Tbs. butter, melted
1 1/2 cups granulated sugar
3 eggs
1 tsp. vanilla extract
1 cup flour
3/4 cup unsweetened cocoa powder
1/2 tsp. salt
1 pkg. (12 ounces) peanut butter cups miniatures, unwrapped, divided
Topping:
12 Tbs. butter, softened to same creamy consistency as peanut butter
7 Tbs. creamy peanut butter, divided
1 1/2 cups confectioners' sugar
3 Tbs. hot fudge topping
Preheat oven to 350F. Line a 9-inch x 9-inch baking pan with foil leaving 2-inch overhang. Spray with nonstick cooking spray.
Brownie: In bowl combine melted butter, granulated sugar, eggs and vanilla until blended.
Stir in flour, cocoa powder and salt until a batter forms.
Cut 20 peanut butter cups into quarters and stir into batter.
Spread batter in prepared pan and bake 30 minutes or until toothpick inserted in center comes out with moist crumbs and edges of brownie pull away from sides of pan. Cool in pan 15 minutes. Using foil overhang, lift brownie out of pan and cool on wire rack.
Topping: In bowl combine softened butter and 5 Tablespoons peanut butter until blended. Stir in confectioners' sugar until a creamy frosting forms. Spread frosting over top of cooled brownie.
Cut remaining peanut butter cups into quarters and arrange over frosting. Drizzle with hot fudge topping and remaining 2 Tablespoons peanut butter.
Cut into 16 pieces.